This Week's Jon Karl Grills Paul Ryan On Sequester: Remember When You Said It Was A Good Idea?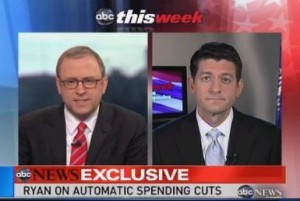 The automatic spending cuts known as the sequester have been cause for concern in Washington on both sides of the aisle. On Sunday, Rep. Paul Ryan (R-WI) made his case on This Week — but (fill-in) host Jonathan Karl wasn't convinced.
The president is the one who designed the sequester and the House GOP passed legislation to replace it, Ryan asserted. The Senate and the president have yet to take action, he added, making it seem that it will likely take place.
This is an oft-cited talking point, Karl countered, then repeating Ryan's own past remarks, wherein he said conservatives have been fighting for "statutory caps on spending, legal caps on in law that says government agencies cannot spend over a set amount of money." And if that's breach, sequester enters the picture.
"You were certainly suggesting it was a good idea," Karl pressed. Everyone wants budget caps, Ryan replied, going back to reiterate inaction from the president and Democrats (in terms of passing a budget) and the need for smart spending cuts unlike those proposed in the current sequester.
Karl wasn't buying it, noting that House Republicans "have not acted in this Congress," a point Ryan immediately disagreed with. Senate Democrats did come out with a plan, half spending cuts and half tax revenue, Karl continued. Ryan said he'd "be curious to see" if they could pass that. Moreover, Obama already got his tax increases.
What's the goal? he asked. "We want economic growth" and job creation. To prevent a debt crisis.
"You're saying no tax increases, period, to pay for this," Karl clarified. "That's right," Ryan replied.
Karl then moved on to the talk of a balanced budget. "Some in your own party are a little worried about this," he said, quoting Rep. Mike Simpson's (R-ID) remarks. "How are you going to balance the budget in 10 years?"
"We'll show you when we finish writing the budget, we haven't literally finished writing it," Ryan informed, adding that he's "very comfortable with the fact that we will pass this."
With that, he went back to the Senate not having passed a budget, hitting Obama for "never" proposing a balanced budget.
"That's wrong," Ryan asserted.
Take a look, via ABC:

Have a tip we should know? tips@mediaite.com