Thom Hartmann Quietly Drops the Mic on Fans of Planned Parenthood Video Scammers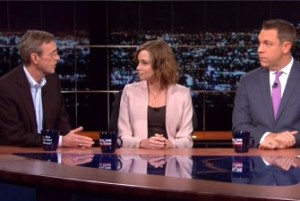 The welcome news that video scammers from the "Center for Medical Progress" have been indicted in Texas follows months of news that Planned Parenthood has been cleared of wrongdoing by state after state. Unfortunately, the news comes too late for the people who were killed in the Colorado Springs shooting at a Planned Parenthood center that was inspired by the lies, told by pretty much every Republican politician that Planned Parenthood was "selling baby parts."
Part of the denial that right-wingers have been experiencing has been a particularly dumb talking point that the media rarely challenges. One of the charges in that Texas indictment is for a misdemeanor charge related to purchasing human organs. Confused wingers have been all over cable news wondering how the video scammers could be charged with trying to purchase human organs if Planned Parenthood isn't selling them. Ipso facto BOOM! Planned Parenthood is actually guilty!
We all know why that's stupid, but it was really, really nice to hear Thom Hartman, on Friday night's Real Time, explain it Friday to Republican consultant Kristen Soltis Anderson as if speaking to a small, almost-sleeping child. Keep an eye on the guy to Anderson's right for extra awkwardness:
Soltis-Anderson: In this case, the indictment wasn't for making videos, it was for purchasing human body parts. So you have some folks on the right, in the pro-life movement who are saying "How do you purchase body parts if no one is selling them?" And so the thought is, look, this is an indictment, it's not a conviction, let's let this play out…

Hartmann: Wait a minute, it was for trying to purchase them. If you walk up to a fedderal agent and offer to commit a crime, that's a crime, and these guys were offering to commit a crime.
If you're wondering why Maher fled the topic like a burning building, it might be because his other guest, former Congressman Trey Radel, just happened to be a living, breathing example of the object lesson Hartmann was trying to teach. Radel resigned from Congress after he was arrested trying to purchase cocaine from an undercover officer. The undercover officer was, of course, not guilty of selling cocaine.
Anderson may be partially correct; in the final analysis, should the CMP actually go to trial, it will be up to a jury to decide if they approve of these antics, and in Texas, you really never know.
This is an opinion piece. The views expressed in this article are those of just the author.