Thomas Roberts, Dem Operative Gang Up on RNC Spokesman for Gov't Shutdown, 'Junk Insurance'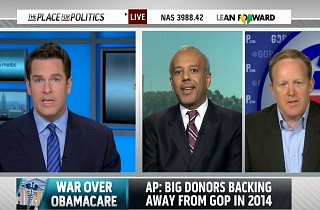 Communications Director at Republican National Committee Sean Spicer took on Democratic National Committee Communications Director Mo Elleithee on MSNBC on Monday in a segment debating whether Democratic politicians will be forced to run away from the Affordable Care Act when they campaign for reelection in 2014. Spicer spent more time, however, battling MSNBC anchor Thomas Roberts who was originally mediating the debate. "There can be only one DNC spokesman at a time," Spicer observed.

Roberts began the interview by pressing Spicer to defend the results of a recent Commonwealth Fund study which showed Americans pay more for health care than many developed nations, "but receive we receive far less in return."
Roberts added that "pro-profit" insurance companies are always going to be more focused on their bottom lines than "what's best for patients." He asked if this kind of data shows why health care reform is necessary and the aims of the ACA were critical.
"No," Spicer shot back. "There's nothing in the ACA that deals with cost containment. In fact, that's one of the reasons that we have a trust gap right now, because people were sold something that they're not getting."
Spicer added that doctors were beginning to refuse to accept not only federal insurance programs like Medicare and Medicaid but insurance in general. He added that specialized medicine is becoming something that "only the rich can afford."
"Isn't that a trend that started under President [George W.] Bush?" Roberts asked. "When we talk about costs not coming down, that's not true. There are people who had huge savings from the fact that they have transferred over under the ACA. There are people benefits greatly from the fact that there are no preexisting conditions they have to be worried about from actually getting covered."
"If it's up to the private insurance companies, were going to see more people getting these junk insurance policies that they're actually getting cancelled from," he concluded. "What is it about junk insurance policies that the RNC supports?"
RELATED: Gay Marriage Dispute Causing Bitter Rift Between Cheney Sisters
"That's a false choice," Spicer replied. He detailed some aspects of the ACA that the RNC agreed were beneficial and that no one seeks to repeal.
"Republicans voted 42 times to repeal or defund the Affordable Care Act," Elleithee reminded him.
"It's not an all or nothing proposition," Spicer countered. "You guys have loaded this thing up with so much fat and government bureaucracy and waste…"
"Oh, come on," Roberts interrupted. "Let's talk about choices because you're willing to shut down the government over the ACA."
"You stalled the entire government costing us billions," he continued.
"Exactly," Elleithee added.
Watch the clip below via MSNBC:
[Photo via screen grab]
— —
> >Follow Noah Rothman (@NoahCRothman) on Twitter
Have a tip we should know? tips@mediaite.com