Thousands Protest Zimmerman Verdict: Martin's Mother Speaks, Jay-Z, Beyonce Appear In New York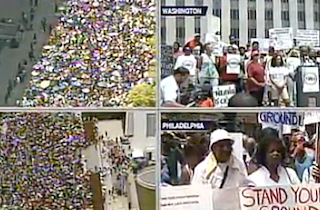 On Saturday, demonstrators gathered in cities from Los Angeles to Dallas to Washington, D.C. to protest the George Zimmerman acquittal and the Stand Your Ground laws that factored into the shooting.
Al Sharpton, a major force in nationalizing the Trayvon Martin case, had called for rallies in 100 American cities, one week following the verdict that has outraged the black community. By 2:00 p.m. EST crowds of 500-1,000 had been reported in Atlanta, Philadelphia, Washington, D.C., Miami and New York.
"The rallies prior to the verdict were focused on getting justice, and trying to bring the country to an awareness of what takes place in many neighborhoods across the country," demonstrator Shabrea McElroy told Fox News. "Now the focus is more so on trying to prevent this from ever happening again, and to try to persuade the Department of Justice to bring a case in this matter."
Despite the sweltering temperatures in New York City, hundreds of protestors massed outside of NYPD headquarters, where Martin's mother, Sybrina Fulton, addressed the crowd. "They need to change the laws that we all know need changing, because they don't work for us," Fulton said, maintaining that she is "still the proud mother of Trayvon Martin."
Tracy Martin, Trayvon's father, spoke to demonstrators in Miami.
Jay-Z and Beyonce were also in attendance at the NYC rally. Geraldo Rivera, who has made multiple incendiary comments about Martin following both the shooting and the verdict, snapped some photos the star couple and the rally, and posted them on Twitter: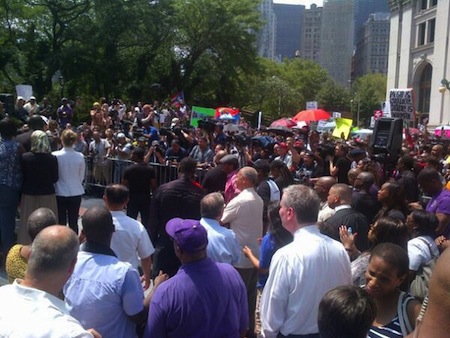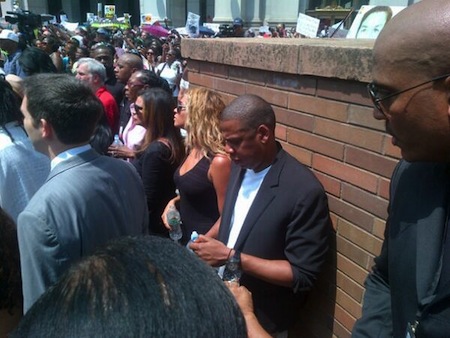 Watch a segment on the New York rallies below, via Fox News:
—
>> Follow Evan McMurry (@evanmcmurry) on Twitter
Have a tip we should know? tips@mediaite.com