Three Men Arrested in NYC for Attempting to Join ISIS, Plotting Domestic Terror Attack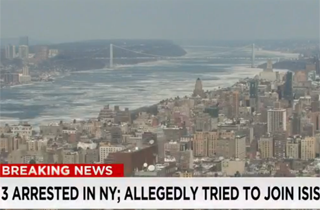 Three Brooklyn men were arrested today by the FBI for planning to fly to Istanbul and then travel across the border into Syria to join ISIS.
CNN reports that the three men — Abdurasul Jaraboev, 24; Akhror Saidakhmetov, 19; and Abror Habibov, 30 — were detained by authorities before they were able to travel to Turkey. According to Jake Tapper, Juraboev and Saidakhmetov will appear before a judge in Brooklyn today; Habibov will be arraigned in Jacksonville, Florida.
Law enforcement officials tell NBC New York the three men plotted to commit an act of domestic terror in New York City if they could not join up with the notorious terrorist group, though such an attack was in the "aspirational" stages. The three have been charged with conspiracy to provide material support to a terror group.
Watch below, via CNN:
UPDATE (1:14 p.m.): Per Jake Tapper, more details from the complaint. One of the attackers had a full plan in place in case he couldn't travel to Syria:
Juraboev acowledged to FBI
"his willingness to.kill President Obama if so ordered by ISIL," complaint says.

— Jake Tapper (@jaketapper) February 25, 2015
Saidakhmetov told an informant that his mother took his passport so he couldnt travel to Syria to fight with ISIS, complaint says

— Jake Tapper (@jaketapper) February 25, 2015
Saidakhmetov: if unable to get travel documents to go to Syria, "I will just go and buy a machine gun, AK-47, go out and shoot all police."

— Jake Tapper (@jaketapper) February 25, 2015
"It is legal in America to carry a gun. We will go and purchase one handgun … then go and shoot one police officer. Boom…"

— Jake Tapper (@jaketapper) February 25, 2015
"..Then, we will take his gun, bullets and a bulletproof vest …Then we will go to the FBI headquarters, kill the FBI people"

— Jake Tapper (@jaketapper) February 25, 2015
[Image via screenshot]
—
>> Follow Tina Nguyen (@Tina_Nguyen) on Twitter
Have a tip we should know? tips@mediaite.com