Through the Looking Glass: CNN Positively Frames GOP's Crusade for Sick Children, Scowls at Dems
Rothman: CNN Positively Frames GOP's Crusade for Sick Children, Scowls at Dems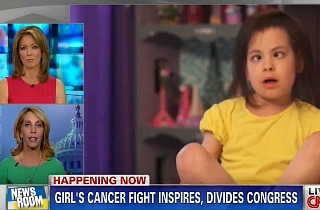 In the history of mind-blowing role reversals, this one might just blow the most minds. CNN's Brooke Baldwin and congressional reporter Dana Bash took to the airwaves on Wednesday to — and excuse the oversimplification, but the gist is accurate — defend the compassionate crusade of congressional Republicans to help sick children in the face of opposition from heartless Democrats. No, I'm not kidding.

Just over one year ago, 10-year-old Gabriella Miller was diagnosed with an inoperable brain tumor. She quickly became a public speaker and an advocate for the rights of children fighting cancer. Miller passed away in October after a 11-month fight with the disease.
Congressional Republicans are supporting a bill which would raise funds for children's cancer research by $13 million per year. Democrats oppose the move, saying that the funding bump is miniscule; that the move is unlikely to effect the desired result; and that those funds are previously allocated for political conventions.
CNN proceeded to feature Rep. Eric Cantor (R-VA) and Rep. Steny Hoyer (D-MD) engaging in bombast on the issue on the floor of the House. "This bill does not do anything for pediatric research," Hoyer exclaimed. "Vote to get rid of the sequester, vote to invest in the National Institutes of Health, not to cut it. That will make a difference."
Bash reported that Democrats were "actively whipping" and "twisting arms" to prevent their members from voting for this bill.
"They believe that this is window dressing," Bash said of Democratic thinking. "Because, what Republicans are saying, is that this is money that they are taking out of or doing away with from federal funds that are supposed to go to political conventions, and authorizing that or redirecting it toward pediatric research at the NIH."
"What Democrats are saying is it doesn't really do that," Bash continued. She added that Democrats believe this maneuver is a "fraud" and a political stunt.
And it may be. I am not prepared to make a judgment call as to which side is correct in this instance.
What is interesting, however, is CNN's clear establishment of a narrative: The sick child's moral righteousness, the noble crusaders waging a losing war on her behalf, and the self-interested politicians acting in bad faith in order to cynically protect their own interests.
These are themes with which Republicans are all too familiar. They are usually on the other side of the equation. This reversal, while it may not signal a trend, is noteworthy.
Watch the report below via CNN:
[Photo via screen grab ]
— —
> >Follow Noah Rothman (@NoahCRothman) on Twitter
Have a tip we should know? tips@mediaite.com