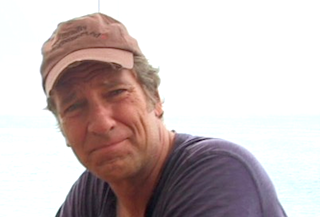 With the premiere of its second season Thursday night, Mike Rowe's Somebody's Gotta Do It was the highest-rated show across CNN's primetime schedule in both the 25-54 demo and total viewers. In the demo, Mike Rowe had 316K viewers, nearly beating Fox News' The Kelly File, which had 317K. For all of cable news, the CNN show came in third in the demo behind The O'Reilly Factor (with guest host Eric Bolling) and The Kelly File.
In total viewers, Rowe's show came in third place during it's 9 p.m. time slot with 651K, but still rated higher than every other show on CNN except Anderson Cooper 360, which had 656K viewers at 8 p.m. However, Somebody's Gotta Do It did see a 38% drop in the demo and a 31% decrease in total viewers compared to its first season debut.
Here are the rest of your Thursday ratings:
TV NEWS RATINGS: 25-54 DEMOGRAPHIC (L +SD)
6 – 9 am
Fox & Friends

262

New Day

103

Morning Joe

75

5 pm
The Five

292

Blitzer

142

Schultz

38

6 pm
Baier

318

Blitzer

164

Sharpton

63

7 pm
Van Susteren

279

Burnett

168

Matthews

146

8 pm
O'Reilly

399

Cooper

223

Hayes

96

9 pm
Kelly

317

Rowe

316

Maddow

164

10 pm
Hannity

270

Tonight

220

O'Donnell

116

11 pm
O'Reilly

203

Cooper

191

Hayes

80

PRIME TIME
330
253
125
Data by Nielsen Media Research. Live and same day (DVR) data.
TV NEWS RATINGS: TOTAL VIEWERS (L +SD)
6 – 9 am
Fox & Friends

1.005

New Day

337

Morning Joe

383

5 pm
The Five

1.622

Blitzer

561

Schultz

476

6 pm
Baier

1.840

Blitzer

531

Sharpton

568

7 pm
Van Susteren

1.672

Burnett

606

Matthews

837

8 pm
O'Reilly

2.096

Cooper

656

Hayes

589

9 pm
Kelly

1.999

Rowe

651

Maddow

813

10 pm
Hannity

1.026

Tonight

512

O'Donnell

503

11 pm
O'Reilly

709

Cooper

425

Hayes

321

PRIME TIME
1.708
606
635
Data by Nielsen Media Research. Live and same day (DVR) data
Have a tip we should know? tips@mediaite.com