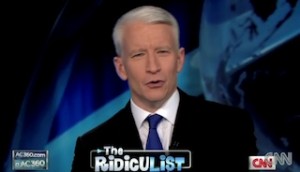 It's no secret that ratings are a fickle beast. One night, you're toasting with friends about the 230,000 viewers in the 25 to 54 year-old demo who tuned in to see your interview with, say, Hulk Hogan's ex-wife; the next, you hang your head low at the 124,000 who wanted to see you talk with some foreign head of state. These numbers, in short, make little sense. And that's what makes it fun — the random aberrations that occur every night.
Take, for instance, AC 360. At 8 p.m., the show lost a remarkably tight race for second place to Ed Schultz and Nancy Grace, with 166,000 demo viewers. But at 10 p.m., Anderson Cooper became a ratings monster*, pulling in 258,000 viewers, almost beating Joy Behar and Lawrence O'Donnell combined in the same time slot. He not only dominated CNN's stable of anchors, but beat out every show on MSNBC and HLN, as well.
*-Non-Fox News Division
Some other nuggets from Thursday night:
While Cooper took the Thursday night CNN title, Wednesday night's victor was Erin Burnett. On Thursday, she was exceptionally strong at 11 p.m., pulling in 140,000 demo viewers, while Ed Schultz attracted 94,000 and Showbiz Tonight had 66,000.
Fox News' late night guilty pleasure, Red Eye, makes the occasional cameo here, and they're popping up today because they're on a bit of a run — over a seven-show stretch the last two weeks, the program averaged 208,000 demo viewers. For five straight days, the show averaged more demo viewers than John King USA, Dylan Ratigan, and OutFront, among many others.
In other Fox News… er, news, Sean Hannity made an admirable charge at Bill O'Reilly's ratings dominance on Thursday, getting 559,000 viewers to O'Reilly's 628,000. Naturally, instead of this being the start of a trend, the gap will likely re-widen once Friday's numbers are released. But we figured an official Nugget Hat Tip to Hannity was at least in order for coming surprisingly close to the King of Ratings.
Here are the complete cable news ratings for Thursday night:
TV NEWS RATINGS: 25-54 DEMOGRAPHIC (L +SD)
5 pm
The5

325

Blitzer

146

Matthews

167

Special

58

6 pm
Baier

383

King, USA

94

Sharpton

155

Prime

80

7 pm
Shep

436

Burnett

87

Matthews

165

Issues

150

8 pm
O'Reilly

628

Cooper

166

Schultz

179

Grace

172

9 pm
Hannity

559

Piers

198

Maddow

199

Dr. Drew

104

10 pm
Van Susteren

409

Cooper

258

O'Donnell

162

Behar

124

11 pm
O'Reilly

402

Burnett

140

Schultz

94

Showbiz

66

TOTAL DAY
302
148
125
94
PRIME TIME
532
208
108
128
Data by Nielsen Media Research. Live and same day (DVR) data.
TV NEWS RATINGS: TOTAL VIEWERS (L +SD)
5 pm
The5

1,571

Blitzer

810

Matthews

732

Special

271

6 pm
Baier

2,076

King, USA

516

Sharpton

701

Prime
341
7 pm
Shep

1,835

Burnett

473

Matthews

743

Issues

385

8 pm
O'Reilly

3,170

Cooper

603

Schultz

881

Grace

515

9 pm
Hannity

2,194

Piers

830

Maddow

908

DrDrew

336

10 pm
Greta

1,571

Cooper

711

O'Donnell
843
Behar

411

11 pm
O'Reilly

1,124

Burnett

425

Schultz
485
Showbiz

164

TOTAL DAY
1,353
528
506
286
PRIME TIME
2,320
716
877
413
Data by Nielsen Media Research. Live and same day (DVR) data
Have a tip we should know? tips@mediaite.com