Thursday Ratings: Fox News GOP Debate Is Highest-Rated In Cable News This Year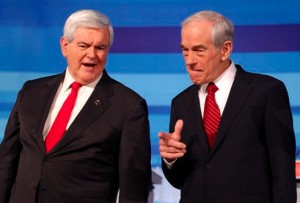 Fox News was almost universally lauded for their production of the Republican debate on Thursday night, and the amount of people who tuned in made it doubly enjoyable for the cable news network: 6.7 million viewers tuned in to watch the debate, with 1.9 million of them coming from the 25-54 year old demo. The only debate this year to beat these numbers was ABC's last week, which pulled 7.6 million overall and 2.1 million in the demo. Keep in mind that ABC is in about 17 million more homes than Fox News.
As for collateral damage? Prepare to have your innocence shattered. [Lights, please]. The Republican debate averaged more viewers than A Charlie Brown Christmas (6.4 million viewers), which aired from 8 p.m. to 9 p.m. on ABC. Charlie Brown did, however, beat the debate in the demo.
Other nuggets from Thursday night:
In the 6 p.m. time slot, Al Sharpton pulled in 226,000 demo viewers, while Vinnie Politan attracted 152,000.
Joy Behar had 106,000 demo viewers tune in for her final live show on HLN.
While FNC pretty much destroyed everything in sight, MSNBC had an exceptionally strong night across the board, as well, finishing second in every time slot.
Alternative headline for this post: Newt Gingrich Beats Up Charlie Brown
Here are the complete cable news ratings for Thursday night:
TV NEWS RATINGS: 25-54 DEMOGRAPHIC (L +SD)
5 pm
The5

309

Blitzer

170

Matthews

192

Special

114

6 pm
Baier

402

King, USA

133

Sharpton

226

Prime

152

7 pm
Shep

376

Burnett

113

Matthews

208

Issues

122

8 pm
O'Reilly

846

Cooper

150

Schultz

183

Grace

108

9 pm
Debate

1.908

Piers

88

Maddow

286

Dr. Drew

83

10 pm
Debate

1.817

Cooper

104

O'Donnell

187

Behar

106

11 pm
Hannity

951

Burnett

77

Schultz

101

Showbiz

93

TOTAL DAY
462
100
142
90
PRIME TIME
1.515
114
219
100
Data by Nielsen Media Research. Live and same day (DVR) data.
TV NEWS RATINGS: TOTAL VIEWERS (L +SD)
5 pm
The5

1,470

Blitzer

702

Matthews

724

Special

241

6 pm
Baier

2,034

King, USA

497

Sharpton

777

Prime
350
7 pm
Shep

2,026

Burnett

444

Matthews

786

Issues

421

8 pm
O'Reilly

3,863

Cooper

518

Schultz

859

Grace

480

9 pm
Debate

6,881

Piers

422

Maddow

872

DrDrew

309

10 pm
Debate

6,529

Cooper

314

O'Donnell
627
Behar

367

11 pm
Hannity

3,375

Burnett

266

Schultz
423
Showbiz

202

TOTAL DAY
1,790
362
455
239
PRIME TIME
5,742
418
786
384
Data by Nielsen Media Research. Live and same day (DVR) data
(Image credit: AP/Chris Carlson)
Have a tip we should know? tips@mediaite.com