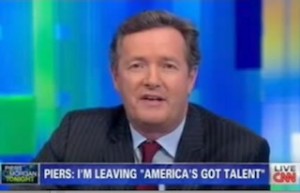 Piers Morgan — to editorialize for just a moment — is one of our favorite cable news hosts. Maybe it's the British accent; perhaps it's our affinity for Celebrity Apprentice winners. But he hasn't really, as Brian Stelter of the New York Times noted Thursday, caught on yet in the ratings.
Thursday night, however, Morgan performed better than any show on CNN in the 25-54 year old demo, attracting 222,000 viewers. His numbers also bested every cable news prime time show not on Fox News, on what turned out to be a relatively strong night for CNN, resulting in a second-place overall finish in prime time.
Some other nuggets from Thursday night:
It's not entirely good news for Piers. Or anyone else. Every non-FNC cable news program was bested in the demo by FNC's Red Eye, which airs at 3 a.m.
The highest-rated show on MSNBC Thursday night? The Last Word With Lawrence O'Donnell. He bested Rachel Maddow by just 2,000 demo viewers.
A minor surprise from FNC's ratings was the third-place finish by Greta Van Susteren, who finished behind Bill O'Reilly and Sean Hannity. Her numbers usually have her in, or near, the bottom of the FNC stable.
Keeping the "surprise" theme going, Joy Behar ended up being the highest-rated show on HLN Thursday night, a spot usually occupied by Nancy Grace or Jane Velez-Mitchell.
Here are the complete cable news ratings for Thursday night:
TV NEWS RATINGS: 25-54 DEMOGRAPHIC (L +SD)
5 pm
The5

323

Blitzer

127

Matthews

133

Special

38

6 pm
Baier

380

King, USA

114

Sharpton

136

Prime

69

7 pm
Shep

398

Burnett

109

Matthews

177

Issues

122

8 pm
O'Reilly

590

Cooper

202

Schultz

152

Grace

112

9 pm
Hannity

566

Piers

222

Maddow

216

Dr. Drew

126

10 pm
Van Susteren

421

Cooper

218

O'Donnell

218

Behar

135

11 pm
O'Reilly

396

Burnett

150

Schultz

151

Showbiz

84

TOTAL DAY
320
128
118
86
PRIME TIME
527
214
195
125
Data by Nielsen Media Research. Live and same day (DVR) data.
TV NEWS RATINGS: TOTAL VIEWERS (L +SD)
5 pm
The5

1,569

Blitzer

773

Matthews

697

Special

175

6 pm
Baier

1,965

King, USA

547

Sharpton

749

Prime
250
7 pm
Shep

1,884

Burnett

495

Matthews

807

Issues

342

8 pm
O'Reilly

2,952

Cooper

564

Schultz

938

Grace

451

9 pm
Hannity

2,290

Piers

785

Maddow

1,015

DrDrew

346

10 pm
Greta

1,817

Cooper

564

O'Donnell
971
Behar

384

11 pm
O'Reilly

1,193

Burnett

378

Schultz
507
Showbiz

228

TOTAL DAY
1,360
493
525
232
PRIME TIME
2,356
652
980
389
Data by Nielsen Media Research. Live and same day (DVR) data
Have a tip we should know? tips@mediaite.com