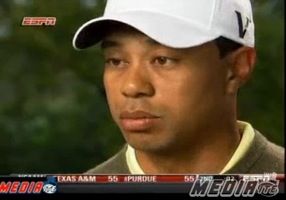 Earlier this afternoon, Tiger Woods gave his first interviews since the accident last November with two sources, ESPN and The Golf Channel. The terms were surprisingly open: five minutes straight with no questions off limits, but mandated to be held for broadcast until 7:30 p.m. EDT. It's been a busy 10 days in Tiger news since he signed former George W. Bush Press Sec Ari Fleischer on board to run rebuild Woods's image.
First, it was announced Tuesday that he would be coming back to golf in time for The Masters, to be held April 8-11. Now, two primetime Sunday interviews. The first one? Tom Rinaldi, of ESPN.
In the taped interview, Rinaldi got in a whopping 20 questions in the five-minute format. Tiger noted that he has made his mistakes and that he had been receiving in-patient and out-patient treatment for 45 days (although he would not admit to what he was being treated for). He defended both the privacy of some of the situation, and the fact that he needed to apologize to a greater group beyond just the people directly involved because of his history as a role model.
Rinaldi finally got it back to golf and asked Tiger about his expectations at Augusta. For maybe one of the first times ever, Tiger admitted that he can be nervous about something related to golf; however, it was about the crowd reaction and not the competition. As Tiger responded, "I don't know [the  reception I'll get from fans]…it would be nice to hear a couple claps here and there, but I also hope they'll clap for birdies, too." It didn't last long on the topic, as Woods pointed brought the interview to a conclusion with a wrap-up of his core values, religion and respect of the relationship he has built with his wife, Elin.
The overly planned timing may have failed Ari, Tiger and team: CBS was able to keep the sports audience when the second-round game between Purdue and Texas A&M went to OT. Miss the interview during the Boilermakers' comeback win? It's right here:
Tiger's media tour isn't over yet; next up will be the airing of the interview with Golf Channel's Kelly Tilghman. But as ESPN's Bob Harig noted during a lead-in to the Sportscenter interview, 'A good bit of ground was covered…this is a start, but only a start. There's going to be a clamoring for a lot more questions to be asked."
Have a tip we should know? tips@mediaite.com