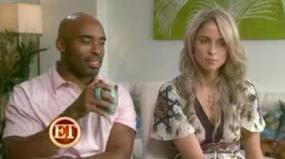 Hey interns! If you play your cards right, you too could one day date and live with a former TV host and NFL star.
Remember when news came out that Today show contributor Tiki Barber had separated from his pregnant wife and was now dating one of his former interns? For some reason the couple are speaking out about it to Entertainment Tonight.
Barber is no longer with NBC – but he's still with his girlfriend. And now he wants to set the record straight. Entertainment Tonight sets it up (via TVNewser):
The media was brutal, Barber skewered by reports alleging that he abandoned Ginny, his wife of 11 years, pregnant with twins, for 23-year-old Traci Lynn Johnson, an unpaid intern on Today when they met.
Ok – so what's wrong here? According to Barber and Johnson in this sit-down:
• Johnson was never their babysitter, and not in the waiting room when Barber's wife gave birth.
• They were "not romantic" until Barber was separated. Or as Barber said it while sipping from a coffee mug, "I was separated, out of my house, that's when we kind of, went to a different level."
• It's not weird because other people do it. Johnson: "Plenty of people who are separated have girlfriends and boyfriends." Barber: "Marriages dissolve. It happens. It's unfortunate but it happens."
So now that we're clear on the facts, we still know Barber remains married (and separated) and is still living with his former intern. See media – what's your problem? Also, Tiki Barber smells fantastic.
Here's the interview:

—–
» Follow Steve Krakauer on Twitter
Have a tip we should know? tips@mediaite.com