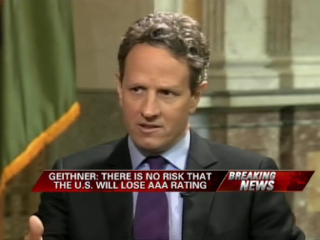 With the chorus of Republicans calling for his resignation ever growing, Treasury Secretary Timothy Geithner probably didn't need video of him predicting last month's debt ceiling battle to take place in the exact opposite way that it did, and proclaiming there was "no risk" whatsoever that the United States could have its credit rating lowered by S&P. Yet here is Geithner on Fox Business Network last April, expecting bipartisanship to reign in Congress and shrugging off the threat of a downgrade.
The clip is from an extended interview with the Treasury Secretary last April, where he discussed the impending debt crisis and showed no signs of worry. Asked directly whether Standard and Poor's could realistically downgrade the United States' credit for the first time in history, Geithner clearly answered there was "no risk." "You see the leadership of the United States of America," he said of raising the debt limit, "recognizing now this is the right thing to do for the economy." He said he was "absolutely" sure there was no chance of a downgrade.
He also noted that he saw no chance of Congress not raising the debt ceiling, or even doing so in small increments. "I think the prospects for bipartisan agreement are better than they have been in a while," he said optimistically, noting that he could not imagine that anyone in Congress would feel compelled to "call into question the basic credit worthiness of the United States of America." He also expressed an expectation that Congress would raise the debt ceiling in a "timely manner… don't take us too far into June." The clip began making the rounds on Fox News today, but expect it to be a cable news staple by the end of the week, especially among those that have some unorthodox ideas for replacing him.
The clip via Fox Business below:



[h/t Breitbart.tv]
Have a tip we should know? tips@mediaite.com