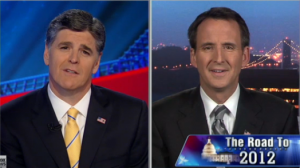 Minnesota governor and 2012 presidential candidate Tim Pawlenty appeared on Hannity last night to talk about his debate performance Monday. Many believed he missed an opportunity to go after Mitt Romney for his past health care positions, and Pawlenty conceded he could have been more aggressive in making that point during the debate.
On Fox News Sunday, Pawlenty criticized Romney for setting up a health care system in Massachusetts that he argues directly led to the health care plan passed under the Obama administration, coining the term "Obamneycare." The next day, Pawlenty was asked to comment on his position during the debate, but he slightly backtracked, arguing he was using Obama's words in making the comparison.
Last night, Sean Hannity opened the interview by telling Pawlenty that he thought the candidates were correct in going after President Obama's policies rather than sniping at each other, and asked the governor what he thought of all the criticism.
Pawlenty didn't mince words; he admitted he could have been more aggressive in going after Romney's record.
I should have been much more clear during the debate, Sean. I don't think we can have a nominee that was involved in the development and construction of Obamacare and then continues to defend it.

That was the question, I should have answered it directly. Instead I stayed focused on President Obama, but the question really related to the contrast with Governor Romney, and I should have been more clear. I should have made the point that he was involved in developing it, he really laid the groundwork for Obamacare and continues to this day to defend it.

I think that's a legitimate response to the question I was asked, and I should have been more clear.
Hannity momentarily played devil's advocate and asked Pawlenty if he agreed with Romney that health care mandates worked at the state level, but not at the federal level. Pawlenty upped the ante by labeling Romney a "co-conspirator" in Obama's health care plan, and claiming that both plans are very identical. He also expressed concerns that if Romney won the GOP nomination, this would be a major problem for him going forward.
Watch the interview here, courtesy of Fox News:
Have a tip we should know? tips@mediaite.com
Josh Feldman - Senior Editor