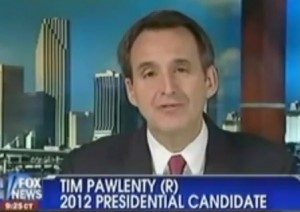 Oh, how the mighty have fallen. Once considered a more base-palatable alternative to Mitt Romney for the 2012 Republican presidential nomination, former Minnesota Gov. Tim Pawlenty was forced to drop out of the race early after a slide that began with his refusal to confront Romney at a debate over "Obamneycare." According to Howard Kurtz, Pawlenty went looking for work at Fox News shortly thereafter, but was given a resounding "Fox no!" for his troubles.
Tucked away within Kurtz's eminently quotable Newsweek profile of Fox News chief Roger Ailes was this indignity:
Three weeks after dropping out of the race, Tim Pawlenty showed up to ask for a gig at Fox. But there was a complication: Pawlenty was on the verge of endorsing Romney. "I'm not sure I want to sign you as a paid spokesman for Romney," Ailes said.
Ailes, bless his heart, was probably being kind to Pawlenty with that Romney excuse. Pawlenty's lucky that Ailes didn't turn him down as a Fox News viewer, for fear he'd sap the network's energy right through the TV. I'm not saying Pawlenty is dull, but when he went to ask Ailes for the job, the Fox chief said, "Okay, send him in," to which Pawlenty replied, "But I'm sitting right here, sir."
Pawlenty was also rejected as a pitchman for 5 Hour Energy, whose distributors explained, "That's five hours in a row."
In other Pawlenty news, the former governor recently sat for an official portrait by Bulgarian artist Rossin, which gave onlookers the unique opportunity to either watch paint dry, or look at Rossin's painting.
Have a tip we should know? tips@mediaite.com