Tim Pawlenty Spurns Bashir Amid Grilling Over GOP's Extremism: 'There's Also An Analog On The Left'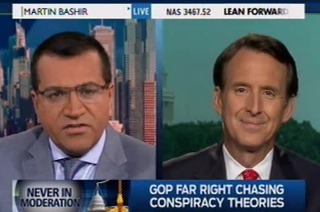 Former Minnesota Gov. Tim Pawlenty joined MSNBC host Martin Bashir on Wednesday where he was asked about the surprise retirement of North Star State Rep. Michele Bachmann (R-MN). Bashir interrogated the former Republican presidential candidate over whether his party has become too extreme.

"Do you think the GOP is on its way to be able to say that it now understands voters' needs better?" Bashir asked.
"If not, Martin, they'll continue to lose elections," Pawlenty replied. "I hope that message is absorbed and owned earlier."
RELATED: MSNBC's Martin Bashir Shouts Down Then Boots Republican Guest
Pawlenty identified Rep. Paul Ryan (R-WI), Sen. Marco Rubio (R-FL), and Govs. Susana Martinez (R-NM) and Chris Christie (R-NJ) as examples of GOP politicians with "good policy positions" who also "resonate, I think, better with everyday people."
Bashir asked Pawlenty to reflect on less sterling GOP examples like former Rep. Todd Akin (R-MO), Bachmann, and Mitt Romney, asking if "thoughtful and decent" no longer describes the majority of Republican officeholders.
"In both parties," Pawlenty began, "there's always some people…"
"But let's focus on your party, if we may, sir," Bashir interjected.
"To be fair, Martin, there's also an analog on the left where people who are viewed as perhaps more on the outer edges of the party say things that are odd, or unusual, or noteworthy, and it lights up the blogs or cable TV for the day," Pawlenty replied.
He concluded that he hopes the GOP continues to be a mainstream party "in the tradition of Ronald Reagan."
Watch the clip below via MSNBC:
> >Follow Noah Rothman (@NoahCRothman) on Twitter
Have a tip we should know? tips@mediaite.com