Time Editor On Unwillingness To Sacrifice Liberties For Security: 'Our Country Was Founded By Radicals'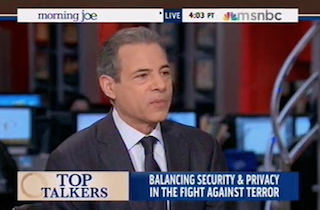 On Thursday's Morning Joe, Richard Haass and Time magazine's Rick Stengel joined the roundtable to discuss the issue of sacrificing privacy for security in the country's counterterrorism efforts. Polling showed a larger portion Americans are not willing to give up civil liberties for security. Citing the freedom of speech, Stengel noted this made sense given that our "country was founded by radicals."
In the poll, 49 percent said they were not willing to give up civil liberties, while 40 percent said they were. Eighty-one percent, however, favored increased camera surveillance. Stengel pointed to the "libertarian streak in American character," while also noting that people's perception of privacy is also changing. Millennials, for example, are more likely to give up some aspects of privacy, he argued.
Later in the segment, Haass brought up the notion of "layered defense." There's the preventive aspect — trying to get communities to stay vigilant and report those who may be radicalized — but that's not enough. Which is where other "point defense" like searches and metal detectors come in. There "literally will be a series of layers in our society, from fairly intrusive to more general."
To that point, John Heilemann jumped in to note that even with layered defense, terrorism will still exist, which is "the civil libertarian impulse" has persisted. If there's not perfect security, people want to maintain a certain degree of privacy, he argued.
That's "in the American character," Stengel asserted. "We want to have a more tolerant society. Without making too much of facile analogy, I mean our country was founded by radicals. These are men who put in the constitution the idea that free speech has to be protected — the wildest and most extreme ideas have to be protected — and that is the tension in our society."
Take a look, via MSNBC:

Have a tip we should know? tips@mediaite.com