TIME Exec Editor To Matthews: 'We're All Welfare Queens' and 'Socialists From The Day We're Born'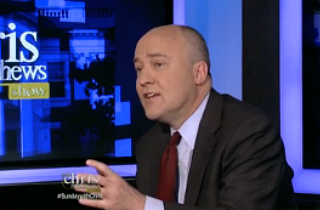 We are all welfare queens and socialists now, according to TIME executive editor Michael Duffy.
Appearing on Chris Matthews' syndicated talk show, Duffy explained that it's not just the elderly and the poor who receive entitlements and government subsidies — it's everyone.
"We're all socialists from the day we're born. You don't have to be poor or unemployed to be on welfare," Duffy explained. "We're all at the trough. We're all welfare queens. Your house, and your healthcare, and your childcare. Well, maybe not your childcare. You know, my parking is subsidized. You know, you're very subsidized. You know, and the whole country is built essentially on a series of assistance programs."
"Explain that to the skeptic out there who says, 'What's this guy talking about?'" Matthews asked.
"You don't have to just get direct payments in the form of Social Security or Medicare," Duffy continued. "You get it in the form of tax benefits for your house or for child care or or for commuting or for parking. So it's a totally subsidized nation. One nation subsidized."
Veteran journalist Dan Rather chimed in that "the big corporations and people who make a lot of money" are also subsidized by the government in a variety of ways.
Duffy agreed, adding that his overall point is that "while the entitlement program is what's driving the budget, the notion that it's a few people, it's all of us."
Watch below, via ABC:
[h/t NewsBusters]
— —
>> Follow Andrew Kirell (@AndrewKirell) on Twitter
Have a tip we should know? tips@mediaite.com