TIME Magazine Editor: 'Romney Flip-Flops On Almost Everything' While Obama 'Consistent'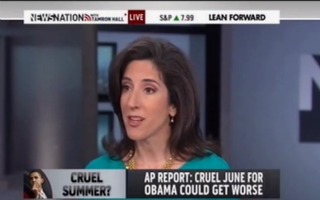 In a segment MSNBC discussing an interview that former Florida Gov. Jeb Bush gave with CBS on Thursday, TIME Magazine assistant managing editor Rana Frohoohar told Tamron Hall that she believes "[Mitt] Romney flip-flops on most everything" while President Obama "has been consistent" on the economy. This expression of subjective political opinion is, however, a departure from what TIME describes as Frohoohar's regular beat leading the newsmagazine's economics and business coverage.

RELATED: Mom Defends Controversial Time Magazine Breastfeeding Cover On Today Show
On Thursday, Bush told CBS' Charlie Rose that he believes "anytime an elected official in the world we're in today – that appears so dysfunctional – challenges a core constituency, not of their opponent but of their own political base; I think we should pause and give them credit."
Hall pointed out that President Obama has challenged his core constituency on a number of occasions, while Romney has not "gone up against his own base." Hall asked Frohoohar if Bush had made a gaffe in his interview with CBS.
In her response, Frohoohar abandoned any pretense of objectivity:
"I agree that Romney flip-flops on most everything," said Frohoohar. "I think that presents an opening for the President. He has been consistent – particularly around the economy. It's a bad moment, but he has had a plan."
Frohoohar said that the President has advanced a jobs plan but it has been delayed primarily due to the inaction of Congress.
This statement appeared to be incongruous with the straight reporting that Frohoohar does on a regular basis for TIME. She covers business and economics in a balanced way and focuses primarily on facts and supports her assertions with quotes.
When she does write opinion pieces for TIME's "Ideas" section, as in her most recent piece "The Case for Banking Regulation," she allows herself the occasional expression of opinion and even speaks in the first person.
She often seems measured and makes the effort to showcase balance when she fact-checks political or business leaders, particularly in her opinion pieces. Her appearance on MSNBC was a different matter altogether.
A TIME spokesperson told Mediaite that "as a media watcher you know that Rana Foroohar writes the regular "Curious Capitalist" column for TIME, and as such, she often expresses her expert opinion in TIME and in her TV appearances as she did today."
But an expert opinion seems like a different issue than the ultimate question of comparing Romney and Obama's consistency. Even in Frohoohar's opinion pieces, she rarely indulges in the kind of overt partisanship that she did today. While some will agree with the subjective comment she made on MSNBC, it seems more appropriate for a liberal opinion writer (or MSNBC prime time host) than an economics reporter, let alone the notable periodical's assistant managing editor.
Watch the segment below via MSNBC:
Follow Noah Rothman on Twitter
Have a tip we should know? tips@mediaite.com