Time Magazine Reports Herman Cain Accuser Joint Press Conference 'Is A Certainty'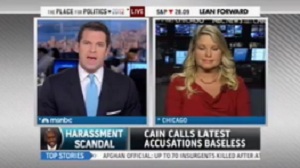 Earlier this morning on MSNBC, Herman Cain accuser Sharon Bialek and attorney Gloria Allred told anchor Thomas Roberts that they were open to the idea of a joint press conference with other Cain accusers. Now, Time Magazine is reporting that Joel Bennett, attorney for recently-outed Cain accuser Karen Kraushaar, has been in contact with Allred, and says that such a press conference "is a certainty. Date and time to be determined."
Sharon Bialek, the fourth person to accuse Herman Cain of sexual harassment, but the first to come forward publicly, joined Thomas Roberts on MSNBC this morning, along with her attorney, Gloria Allred, to respond to Herman Cain's Tuesday evening press conference.
While pushing back against the idea that she's in it for the money ("if I was in this for money, I wouldn't be sitting right here, I would have sold my story and left."), or that Democratic donor Gloria Allred had political motivations (Allred pointed to her representation of Democrat Anthony Weiner's accuser, and joked, "I'm embarrassed how little money I've given to the Democratic party."), Roberts asked if the two women had been in touch with the other accusers, and if they were interested in doing a joint press conference.
"I have not been in contact with them," Bialek told Roberts, later adding, "if the women would like to get together, and Gloria and I have yet to discuss this, I'm all for it if Gloria is."
A few hours later, Time reports that, according to Joel Bennett, attorney for Karen Kraushaar (the second woman known to have filed a complaint against Herman Cain), he and Allred have now discussed a joint presser, and both women have agreed to participate:
Joel Bennett, the attorney for Karen Kraushaar, who settled a sexual harassment complaint against Cain with the National Restaurant Association for a reported $45,000 back in 1999, told TIME that his client will appear at a joint press conference with Sharon Bialek, the woman who came forward on Monday. "Gloria Allred has already agreed to participate with her client," Bennett said about Bialek's attorney. "It is a certainty. Date and time to be determined." (Allred did not immediately return an e-mail.)

Bennett confirmed he has also reached out to a third Cain accuser, a woman living in New Jersey who also settled a complaint with the NRA back in the late 1990s for $35,000. Bennett said it is unclear if that woman would also participate in the press conference.
Time's report makes no mention of the third sexual harassment accusation that surfaced last week, from an unnamed woman who alleged that Cain made advances toward her while both were at the National Restaurant Association, but who did not file a complaint against Cain at the time.
Have a tip we should know? tips@mediaite.com