TIME Reporter Cracks Up Chris Matthews With Observation The GOP Is 'Intolerant And Out Of Touch'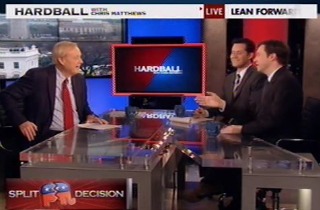 TIME Magazine reporter Michael Crowley cracked up MSNBC host Chris Matthews and his fellow panel guest on Thursday during a conversation about the future of the Republican Party. Amid a discussion about the GOP's rebranding efforts, and the seeming willingness of some influential members of the party to embrace gay marriage, Crowley was asked if these changes will help the GOP win national elections again. Crowley replied that the GOP's problem as a whole is that "it's intolerant and out of touch."

RELATED: GOP Strategist Tackles Gay Marriage Evolution: Youngest, 'Most Devoted' Conservatives See It As 'Equal Rights'
Matthews asked Huffington Post reporter Sam Stein if he thought that the GOP's evangelical wing would simply withdraw from politics. He noted that it was not unprecedented for the evangelical wing of the GOP to disengage from politics, noting that the religious right was not a political force prior to the late 1970s.
Stein attempted to inform Matthews that the GOP's libertarian wing is on the rise, before Matthews refocused Stein's attention on what could happen to the Republican Party electorally if the evangelicals stay home in coming election cycles.
Finally, Matthews played a portion of a segment from The Daily Show with Jon Stewart in which the host mocked Republican National Committee Chair Reince Priebus for saying the GOP should focus on being more inclusive when they talk about divisive issues. Stewart mocked Priebus for thinking that it was the style and not the substance of the Republican Party's message which turns off moderate voters.
Matthews asked Crowley if the party's 2012 platform, which called for a constitutional amendment defining marriage as existing between a man and a woman, "is it gonna kill 'em?"
"It ties into a larger problem this party has, which is that it's intolerant and out of touch," Crowley opined.
Matthews and his guests burst into laughter at Crowley's observation. "Michael, you nailed it," Matthews agreed.
Watch the clip below via MSNBC:
> >Follow Noah Rothman (@NoahCRothman) on Twitter
Have a tip we should know? tips@mediaite.com