'Time To Wake Up': Why One Senator Was Brave Enough To 'Politicize' The Oklahoma Tornado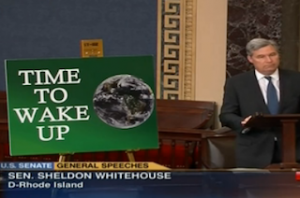 Standing before a poster of the earth with the words "TIME TO WAKE UP" in bold lettering, Senator Sheldon Whitehouse (D-RI) delivered a speech yesterday that he must have known would get under conservatives' skins. Shortly after the devastating tornado first touched down in Oklahoma, and before the first images of the destruction began to emerge, the senator spent 15 minutes on the Senate floor tearing into Republicans for their rejection of climate science. When a tornado like this one hits Oklahoma, Whitehouse explained, it doesn't just affect the people who live there–it affects all of us.
"We are stuck in this together," he said. "When cyclones tear up Oklahoma and hurricanes swamp Alabama and wildfires scorch Texas, you come to us, the rest of the country, for billions of dollars to recover. And the damage that your polluters and deniers are doing doesn't just hit Oklahoma and Alabama and Texas. It hits Rhode Island with floods and storms. It hits Oregon with acidified seas, it hits Montana with dying forests. So, like it or not, we're in this together."
Whitehouse said he longed for a "Republican Party that has returned to its senses and is strong and a worthy adversary in a strong America that has done right by its people and the world." He added, "I don't want a Republican Party disgraced, that let its extremists run off the cliff, and an America suffering from grave economic and environmental and diplomatic damage because we failed, because we didn't wake up and do our duty to our people, and because we didn't lead the world. I do not want that future. But that's where we're headed. So I will keep reaching out and calling out, ever hopeful that you will wake up before it is too late."
Conservative websites like The Daily Caller immediately jumped on Whitehouse for "using" the Oklahoma tragedy to push his "anti-GOP" climate policy agenda. These accusations of "politicization" after a horrific event like the Oklahoma tornado are reminiscent of the criticism President Obama and other Democrats received when they tried to pass meaningful gun legislation following the Newtown, Connecticut shooting.
For conservatives who oppose new laws to help curb climate change or gun violence (and even some liberals), it's always "too soon" after a tragedy to start discussing the concrete steps we can take to prevent it from happening in the future.
Perhaps it's President Obama's role to console the people of Oklahoma for their horrible loss. But at the same time, there's nothing wrong with a member of the Senate speaking out against the climate deniers who can't see the evidence in front of their faces or accept the the overwhelming scientific consensus that shows a warmer climate causes stronger storms.
As Mother Jones' Harry J. Enten points out in an illuminating piece today, "we'll never know whether larger global warming factors were at play in Monday's storms." Lowering the amount of CO2 in our atmosphere won't eliminate every major tornado, hurricane and other devastating storm from happening, just as implementing stricter gun laws won't prevent every mass shooting. But if scientists believe that cutting greenhouse gases will have a reasonable chance at lowering the probability that weather events will be as severe as the tornado in Oklahoma, don't we have an obligation to try? Senator Sheldon Whitehouse certainly believes that to be the case, and that's why he didn't hesitate to "politicize" yesterday's tragedy.
Watch the impassioned conclusion to Sen. Whitehouse's speech below, via C-SPAN 2:
—
>> Follow Matt Wilstein (@TheMattWilstein) on Twitter
Have a tip we should know? tips@mediaite.com