NY Times Reporter Breaks Down Clinton Email Story: Feeds into Narrative of 'Secrecy'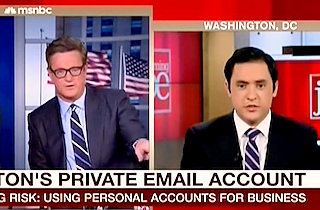 In an interview the Morning Joe crew later characterized as a tad perplexing, New York Times reporter Michael Schmidt explained his story that Hillary Clinton had used a private email account as Secretary of State, in possible violation of federal requirements on government agency correspondence.
In particular, host Joe Scarborough helped Schmidt tease out the difference between previous Secretaries' use of private email accounts and Clinton's, especially as Schmidt seemed to indicate Clinton had been in some ways more forthcoming with providing the State Department with her emails.
"Colin Powell did not release his e-mails," Schmidt said. "Hillary Clinton is the only former Secretary of State to go back and give the State Department her emails."
RELATED: Clinton Spox Releases Statement on Use of Private Email Address at State Dept.
"What you have to understand is, it's not like when Hillary Clinton left office she said here are my emails. 22 months after she left office the State Department went to her and said, 'Hey, do you have any emails from when you were Secretary of State on your personal account that could be government records?' She came back and said, 'Yes. I have 55,000 pages of emails.'"
Scarborough asked for the difference between Powell's use of a personal email address and Clinton's. ("If there's no difference, it's not so much a story," Mika Brzeznski said.)
"Well, Colin Powell's not running for president," Schmidt said.
Scarborough eventually worked out that new regulations had been in implemented after Powell's tenure requiring Secretaries to archive emails with the government, regulations Clinton would have violated with her email address.
"Explicit regulations were in place when Hillary Clinton was Secretary of State that said they had to be retaining her emails on government servers in an active sense," Schmidt said. "The argument that Hillary Clinton's side makes is, well, she was sending a lot of emails to the State Department so they were being caught. But what they didn't address was the emails that she may have sent to other government departments, the White House, foreign leaders, friends, other Americans. Those people didn't have State Department email accounts.,and the emails were not being caught in the State Department's web because they were elsewhere. So it doesn't really answer the question."
"There've been questions about the Clintons over the years, about their transparency and secrecy, and this feeds into narrative," Schmidt explained. "And people wonder why it was she didn't just hand over the emails until she was asked."
Watch the clip below, via MSNBC:
[Image via screengrab]
——
>> Follow Evan McMurry (@evanmcmurry) on Twitter
Have a tip we should know? tips@mediaite.com