Tina Brown: Kate Did 'Perfect Thing' By Having A Boy, Monarchy 'Can Stop Pretending' They'd Be Fine With Girl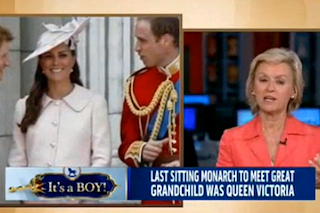 Less than twenty-four hours after a CNN royal watcher drew hackles for calling Kate Middleton "brilliant" for giving birth to a baby boy, Tina Brown doubled down, praising the mother for doing "the perfect thing."
"As soon as William emerged into the public eye, you had this wholesome prince," Brown told MSNBC's Morning Joe on Tuesday. "And his choice of Kate Middleton turns out to be absolutely impeccable. Once again she does the perfect thing."
As Brown herself pointed out, even the monarchy itself is more advanced than this, having recently amended the rules to make the succession to the throne gender neutral.
"Although there's the constitutional change that we now have a girl as a first born to be the monarch, nonetheless she does the traditional thing and gives us a prince, a king," Brown said. "Let's face it: the Queen will be thrilled. She and the Duke of Edinburgh, much as they said they would have been fine with a girl as a first born, they really wanted a boy, and they got one."
RELATED: John Oliver Rips CNN's 'Royal' Commentator: 'Burn The Princess, For She Has Produced A Baby Of The Weaker Sex!'
Brown tweeted a similar sentiment just after the birth of the new Prince of Cambridge: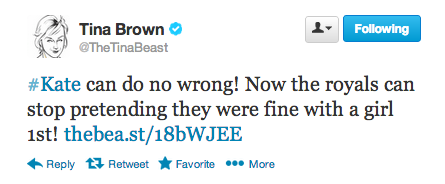 Slate's Emily Bazelon savaged Brown for acting as if not having a girl were some sort of victory. "Brown's boy-favoring is irritatingly off message for a woman whose own famed professional acumen and strength of personality have made her a force in publishing for decades," Bazelon wrote.
And, of course, the belief that the mother of royal offspring somehow influences her progeny's gender occupies a rather ugly spot in British history, something we might want to remember the next time we're passing out Baby Boy trophies.
Watch the segment below, via MSNBC:
[h/t Slate]
—
>> Follow Evan McMurry (@evanmcmurry) on Twitter
Have a tip we should know? tips@mediaite.com