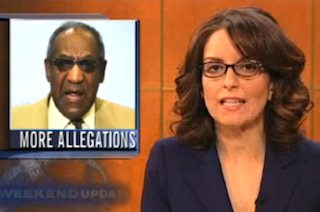 Earlier this week, we learned that Tina Fey had worked a seemingly subtle joke about Bill Cosby's rape allegations into a 2009 episode of 30 Rock. Now, it turns out she also called attention to the story four years earlier when she was anchoring Saturday Night Live's Weekend Update with Amy Poehler.
Crushable's Jenni Maier posted a transcript of the bit on Thursday, in which Fey reported the first allegations against Cosby and then joked with Poehler about the reasons why other comics, including Keenan Thompson, would not be doing the same.
"A California lawyer alleged Wednesday that thirty years ago, Bill Cosby drugged her and tried to molest her, and after she fought back, he dropped two hundred-dollar bills on a table and fled," Fey reported. "Cosby says he can't be held responsible for his actions, since at the time he was suffering from, 'the brain damage!'" she added, trying out her Cosby impression.
When Poehler asked if Thompson would be coming out as Cosby to defend himself, Fey continued her impression, saying, "No, Kenan is not coming out because of the 'Fat Albert,' and the money, and the sequels!"
"Of course he can't talk about the boobies, and the groping, and the pudding pops!" Poehler added.
When Thompson did come on the set, as himself, he said, "Wow, thanks for that. Great job, you guys. I didn't say any of that, because Kenan Thompson loves to work, OK? Peace."
In retrospect, the bit accurately predicted both the comedy community and the media's larger reluctance to talk about the allegations against Cosby over the last nine years. It wasn't until one comedian, Hannibal Buress, decided he didn't need Cosby's approval, that the story became national news in a big way.
Watch video below, via NBC:
And watch the 30 Rock clip below, via NBC:
[h/t Slate]
[Photo via screengrab]
— —
>> Follow Matt Wilstein (@TheMattWilstein) on Twitter
Have a tip we should know? tips@mediaite.com