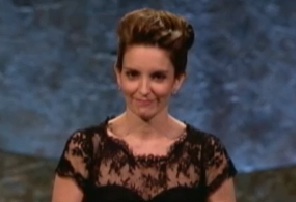 Earlier this week, Tina Fey became the youngest individual ever to be awarded The Mark Twain Prize for American Humor at the Kennedy Center in Washington D.C. And while the usual suspects of entertainment peers came out to adulate Ms. Fey on her accepted and prominent spot in the American humor canon, some took umbrage when she "thanked" Sarah Palin, aiming some sharp jabs at the conservative political leader whom Fey has impersonated with great effect.
Writing for the Washington Post, Paul Farhi reported:
Some famous friends from both coasts swooped into Washington to hand Fey the Mark Twain Prize for American Humor, the annual award for a lifetime of creating comedy — or in Fey's case, as more than one presenter noted, half a lifetime.

There was a parade of Fey highlights: the Weekend Update anchor years on "Saturday Night Live," the "30 Rock" years, with its witty writing and Oprah walk-ons, Fey's movies ("Mean Girls" and "Baby Mama") and, of course, her career-revolutionizing Sarah Palin impersonation.
However, editors at the right-of-center Breitbart.tv saw it his way:
"30 Rock" creator and SNL alum Tina Fey became the youngest ever recipient of the country's top humor prize on Tuesday. She appropriately thanked Sarah Palin:

I would be a liar and an idiot if I didn't thank Sarah Palin for helping me get here tonight. My partial resemblance and her crazy voice are the two luckiest things that have ever happened to me.

Always the class act, Fey noted that the rise of conservative women is good, "unless you don't want to pay for your own rape kit . . . unless you're a lesbian who wants to get married to your partner of 20 years . . . [or] unless you believe in evolution."
Watch the local news report from the Tuesday night event on ABC:
Have a tip we should know? tips@mediaite.com