Tina Fey's Sarah Palin Jokes Edited From PBS Broadcast; "Not A Political Decision"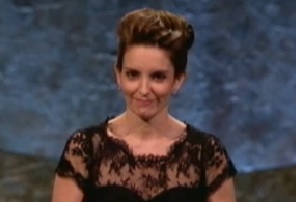 Odds are the only thing you know about the ceremony for this year's Mark Twain Award at the Kennedy Center is this: Tina Fey handed it to Sarah Palin. But that didn't make the cut for PBS' broadcast of the awards ceremony. As David Edwards writes on The Raw Story, Fey's razor sharp jabs at the one-time Alaska governor and media-hyped presidential candidate were cut–for time.
"Executive producer Peter Kaminsky denied the politics played a part in the editing. "It was not a political decision," he told The Washington Post.

PBS claimed that 19 minutes had to be cut out to fit the show in the 90-minute timeslot. "We took a lot out," Kaminski said. "We snipped from everyone."

The Post noted that it's not the first time PBS has clipped a recipient of the Twain award. "When George Carlin was posthumously awarded the prize in 2008, the show's producers spared the ears of the Kennedy Center audience by bleeping out the naughty parts from a video of Carlin doing his famous 'Seven Dirty Words' routine," Paul Farhi wrote.
So, ponder that. Fey, the youngest individual ever to be awarded the Twain Prize for American Humor, will now have her thoughts on the woman who catapulted the comedian into the heart of the 2008 campaign sliced and diced. So you won't hear Liz Lemon say:
And, you know, politics aside, the success of Sarah Palin and women like her is good for all women – except, of course –those who will end up, you know, like, paying for their own rape 'kit 'n' stuff," Fey told the crowd. "But for everybody else, it's a win-win. Unless you're a gay woman who wants to marry your partner of 20 years – whatever. But for most women, the success of conservative women is good for all of us. Unless you believe in evolution. You know – actually, I take it back. The whole thing's a disaster
And how does one gracefully edit an awards acceptance speech, anyway? Be ready for awkward cuts to wide shots of the audience, folks, instead of all that comedy and politics stuff. Who needs it when you're talking about "American Humor?"
Here's Fey's speech, in its entirety:
Watch the full episode. See more Mark Twain Prize.
Have a tip we should know? tips@mediaite.com