TLC Cancels Here Comes Honey Boo Boo over Mama June's Child-Molesting Boyfriend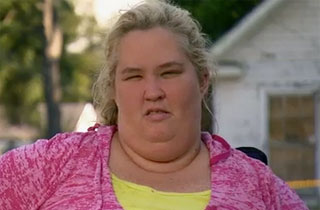 TLC has officially canceled their ratings hit Here Comes Honey Boo Boo due to rumors that the family's matriarch, June "Mama June" Summers, was dating a convicted child molester.
Yesterday, TMZ released a photo of Mama June and recently-released convict Mark McDaniel in a hotel room together, along with reports that the two of them had resumed a relationship that began and ended ten years ago, when McDaniel was convicted of aggravated child molestation in — specifically, "forcing oral sex on an 8 year old" relative of Mama June — and sent to serve a ten-year prison sentence in 2004.
Mama June herself was recently divorced from Mike "Sugar Bear" Thompson, a former cast member on the show and the biological father of Alana "Honey Boo Boo" Thomspon.
TMZ reported today that Mama June denied the allegations, but that TLC didn't believe her and cancelled the entire show as a precaution — including the new season about to go to air. While the network will lose quite a bit of money from the cancellation, TLC seems to have the interests of her children in mind (Honey Boo Boo herself is about 9 years old) and believed that Mama June was putting her children at risk:
But the network is not turning its back on the kids, telling us, "Supporting the health and welfare of these remarkable children is our only priority. TLC is faithfully committed to the children's ongoing comfort and well being." Our sources say the network will pay for tutors and counselors for the kids.
[TMZ]
[Image via TLC/Twitter]
—
>> Follow Tina Nguyen (@Tina_Nguyen) on Twitter
Have a tip we should know? tips@mediaite.com