'To ABC News: Fire Jon Karl' New Petition Calls On ABC To Drop Embattled Reporter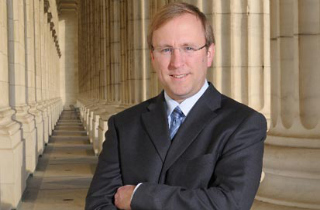 Where there's controversy, there's bound to be a petition calling for someone's firing.
This time, it seems a liberal user of the Change.org petition-building site has begun the calls for ABC News to fire Jonathan Karl after the journalist's report contained inaccurate quotes of leaked White House emails. He initially suggested he had "obtained" the emails from a source but, as it turns out, the quotes came from the source's own paraphrasing of the material.
This was all part of a report Karl filed on the multiple edits to post-Benghazi talking points within the Obama administration.
In a statement, Karl apologized for the mishap:
"I regret that one email was quoted incorrectly and I regret that it's become a distraction from the story, which still entirely stands. I should have been clearer about the attribution. We updated our story immediately when new information became available."
But that hasn't quelled his critics. One liberal user has started a petition with the terse demand "ABC NEWS: Fire Jon Karl," with the description:
We, The People have a Constitution that names the media as our Fourth Estate, and worthy of Constitutional protections. When our media peddles lies as truth for ideological ends, it misinforms & disinforms the People & undermines the Democracy which we are pledged to defend. Such acts deserve NO Constitutional protection.
Thus far, the petition has a mere 366 signatures, with a "goal" of 500. Though it's unlikely such a number of signatures would have any impact on the human resources decisions of ABC News.
[h/t Democratic Underground]
— —
>> Follow Andrew Kirell (@AndrewKirell) on Twitter
Have a tip we should know? tips@mediaite.com