To His Face: Amb. Pickering Refutes Darrell Issa's Claim That He 'Refused' To Testify At Benghazi Hearing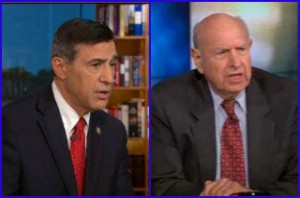 An exchange on Sunday morning's Meet The Press illustrates how even the most subtle distinction can carry heavy political undertones. In discussing this week's hearings on Benghazi, Rep. Darrel Issa (R-CA) asserted that Ambassador Thomas Pickering, who led the Accountability Review Board on Benghazi, "refused to come before our committee."
Amb. Pickering jumped in to correct him, saying "That is not true," and telling host David Gregory that "I said the day before the hearings, I was willing to appear, to come to the very hearings that he excluded me from."
Gregory asked Issa "Do you need a select committee on something like this, something like Whitewater, or is your investigation sufficient here?"
Issa replied, "You know, let's not blow things out of proportion. This is a failure; it needs to be investigated. Our committee can investigate. Now, Ambassador Pickering, his people and he refused to come before our committee."
"That is not true," Pickering interjected.
Gregory allowed Issa to continue, and Issa added that "We're inviting him on Monday, along with Admiral Mullen, to come to go through, with his papers, a private deposition so we can get the facts in a nonpartisan way."
Gregory then allowed Amb. Pickering to respond. "Well, all right, Ambassador Pickering, you just jumped in here," Gregory said. "You're willing to appear?"
"Of course," Pickering said. "I said the day before the hearings, I was willing to appear, to come to the very hearings that he excluded me from. The White House pulled me back, but he said I refused…"
"Please don't tell me I excluded you," Issa interrupted.
"Well, we were told the majority said I was not welcome at that hearing. I could come at some other time," Pickering explained.
Issa didn't refute the ambassador, instead, fine-tuning his accusation. "Well, as the ambassador just said, the day before the hearing, if the White House said, 'We'd like to have him,' there's a procedure. He could have been the Democratic witness, and we would have allowed him."
So, by "refused to come before our committee," Issa meant "was not invited, by the people who weren't running the hearings."
Good of him to clear that up.
Here's the clip, from NBC News' Meet The Press:
Follow Tommy Christopher (@TommyXtopher) on Twitter.
Have a tip we should know? tips@mediaite.com