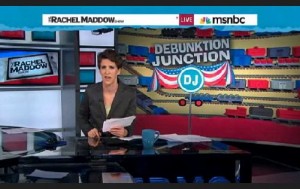 A day after the Republican presidential candidates gathered in Iowa for what was unquestionably the most combative debate of the campaign season, Rachel Maddow examined particular claims made by the candidates to determine if they were true or false.
She rated Herman Cain's claim that he never supported banning mosques as false, pointing out that Cain was being asked the question by Chris Wallace, the very man who Cain made the controversial statement to in the first place. Maddow also discovered that not only was Jon Huntsman incorrect in saying the United States was not engaging in high-level talks with China, but the candidate had attended one of these talks while serving in the Obama administration.
She also highlighted Michele Bachmann's false claim that Tim Pawlenty implemented "cap-and-trade" in Minnesota, the Republicans' hardline position on taxes, and Rick Santorum complaining about getting less time to speak than the other candidates. As for the announced candidates who did not appear on the stage, Maddow updated viewers on the whereabouts of Fred Karger, Buddy Roemer, Gary Johnson, and Thaddeus McCotter during Thursday's debate. (No word on Donald Trump, but one assumes he was busy eating a sandwich made of gold.)
However, an otherwise strong segment focusing on false statements made by the candidates was somewhat tarred by Maddow bringing up minor gaffes from two of the candidates. At one point during the debate, Santorum slipped up and referred to the people of Afghanistan as "Afghanistanis" instead of "Afghanis," while Pawlenty accidentally referred to Admiral Mike Mullen, Chairman of the Joint Chiefs of Staff, as "General Mullen." Considering the heavy nature of the other false statements, these seemed rather out-of-place and unnecessary.
Nevertheless, Maddow seemed full of gleeful exuberance throughout the whole segment (including her somewhat bewildered reaction to Santorum's support of gay rights in Iran), and admitted, "I can not wait for the next debate."
Have a tip we should know? tips@mediaite.com
Josh Feldman - Senior Editor