Today's Facebook Segment Leaves Co-Hosts Grasping To Understand The Story… And Social Media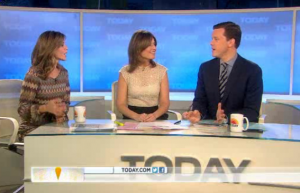 On Thursday, Today ran package about Randi Zuckerberg's Facebook flap in which a private photo of hers accidentally went public. Following the report on the whole debacle, co-hosts Savannah Guthrie and Willie Geist giggled and admitted that they don't actually understand the story… or social media in general.
For context, here's what went down: Randi Zuckerberg, sister of hoodie-clad entrepreneur Mark Zuckerberg, posted a photo of their family on Facebook. That photo ended up in Vox Media marketing director Callie Schweitzer's newsfeed. Schweitzer is apparently friends with the other Zuckerberg sister, who was tagged in the photo. Not knowing it was intended to be private, she tweeted the photo. Randi responded to her on Twitter, asking her to take it down — and gave us all a lesson in "human decency." (BuzzFeed has the rundown, complete with screenshots.)
Today's package went through the whole ordeal chronologically, as well as some of the media response (which was along the lines of, "If the Zuckerbergs can't understand Facebook privacy settings how are we mere consumers expected to?").
"Guys, I have to confess," Geist divulged afterward, "I don't know anything about Facebook or privacy settings."
His co-host was equally, if not more, baffled. Indeed, Guthrie called for a "show of hands" for those who understood how the photo went public… which we'll pretend wasn't outlined in the report they'd just ran. "I don't quite get it myself," she said, raising her hand in response to her own question.
That left the lone Natalie Morales to essentially recap the story. After her brief explanation, Geist and Guthrie nodded, giggled, chattered about how, yes, they were still confused.
"Clearly we're not the panel to have analyzed this story," Geist aptly observed.
"What's the takeaway here?" Guthrie asked. "We don't know either."
Allow us to help you, dear morning show hosts. Baby steps. Here's a good place to start (courtesy of your own show, circa 1994): What is the internet, anyway?

The segment, via NBC:

Editor's note: This post has been edited since its original posting. It originally misstated Randi Zuckerberg to be the brother of the Facebook founder. This has been corrected.
Have a tip we should know? tips@mediaite.com