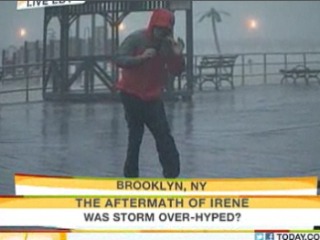 Now that news outlets are, for the most part, done with reported on Hurricane Irene itself, they have now taken to covering whether the coverage of the storm was "overhyped." As The Today Show sees it, that all depends on where you happened to be during the hurricane, and the degree to which you believe in the old adage that it is "better to be safe than soggy." Or something like that.
Along the eastern coast of the United States, experiences of the hurricane differ greatly, from a few fallen leaves and extra rain to a loss of power and dangerous flooding to over 20 hurricane-related deaths. That said, some reporters were selling the storm as "the hurricane of our lifetime," which, after a quick comparison to storms like Katrina, Hugo or Andrew, just didn't seem to be even close to realistic. But does "unrealistic" equate to "irresponsible"?
Well, reports NBC News' Peter Alexander for Today, the storm has so far resulted in what is predicted to be as much as $7 billion in economic losses. But, he also points out, a whole lot of money may also have been "wasted" in preparations for and business closures because of the storm.
Then again, as New York Governor Andrew Cuomo put it, "Just because it 'could've been worse,' doesn't mean the preparation wasn't justified." If you followed coverage of the blizzard that struck New York and New Jersey last winter, you're also very much aware that, while it can lead to a case of "damned if you do, damned if you don't," it generally behooves politicians to prepare people for the worst case scenario than have them inadequately prepared and have a resulting fiasco on their hands.
Today's Al Roker then joined other weather experts to discuss the issue. The general consensus? People are going to complain about coverage either way, and it's better to ensure they're taking potential disasters seriously rather than risking more deaths and devastation.
Take a look at the segment, courtesy of NBC:
Have a tip we should know? tips@mediaite.com