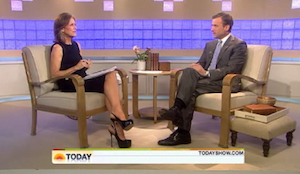 The town of Catoosa County, Georgia has been absolutely torn apart by the case of beloved kindergarten teacher Tonya Craft who has been accused by three young girls of molestation. The people of the community are split down the middle, either vilifying the teacher or calling the trial a "witch hunt". Last week, NBC's Chief Legal Analyst and Mediaite founder Dan Abrams discussed the case on the Today Show and guessed that the defense may be forced to have Craft take the stand and give testimony. Sure enough, she did and Abrams returned to the show to tell Meredith Vieira about the problems both sides will have with their witness testimonies and how the prosecution's may very well cost them the case.
As Vieira pointed out, Craft did not have to take the stand. According to Abrams, this was the right choice:
"In this kind of case, where the key evidence is the testimony of the children and their parents who are saying, "This is what happened, this is what happened to me, this is what happened to my child," I think it's almost essential. Unless the prosecution's case had completely fallen apart, which it didn't It was almost essential for her to take the stand, look at these jurors, and say to them, "This is crazy. This is nuts. Nothing like this ever happened."
Abrams goes on to point out the many risks that the defense is taking by having Craft take the stand. As he points out, any time she's talking to the jurors, there's a chance she could say or do something, however small, that puts them off. However, the defense isn't the only ones who could have problems with testimony. The prosecution is betting its case on the testimony of three girls who are incredibly young and were even younger when the alleged incidents took place.
"I think that's the biggest problem for the prosecution here. That the key witnesses, first of all were five and six at the time and that's, in and of itself, a problem. Now, put on top of that, the fact that we're almost two years later. Five and six year olds now remembering, two years later as eight year olds, what happened to them. That's a real issue when you compare that to the testimony of an adult, that is, Tonya Craft. And I think the prosecutors could have a problem."
Abrams goes on to predict that these problems will probably make it hard for the jury to think there's no reasonable doubt that a crime took place. However, as he says at the end of the segment, no matter how the case ends up, there will be no winners in the town of Catoosa County.
Have a tip we should know? tips@mediaite.com