Today Show Chief Jim Bell (Effectively) Becoming Top Dog At NBC News Over President Steve Capus
Today Show
Chief Jim Bell Effectively Becoming Top Dog At NBC News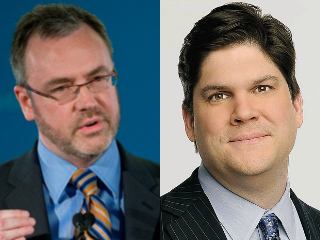 It can be a thankless job taking over a team at the top of its game and simply being asked to keep it that way. Yet that is exactly what happened to Steve Capus when he was named NBC News President in 2005. Today was far and away the morning show leader as were NBC Nightly News, Dateline, and Meet The Press in their respective categories. While those programs continued a good run for much of Capus' tenure, times are a-changin'.

While the media focuses on Ann Curry's future, or lack thereof, at the Today Show, Mediaite has learned that the fallout from that decision has significantly strengthened the standing of her boss, Today Show executive producer Jim Bell. In fact, many of the news division's biggest decisions, even those beyond the Today Show, are now being run by Bell first. Bell, who originally came from sports and will also be overseeing the Olympics, has apparently become "indispensable" according to a Comcast executive not directly involved with NBC News. On Thursday the Wall Street Journal even reported that it was Bell, not Capus, who had the final say on the crucial decision about whether to keep Curry on Today:
Mr. Capus had publicly said as recently as April that the team in place at "Today" was the right one, but the show's executive producer, Jim Bell, and Mr. Burke, who have built a rapport since Mr. Burke came from his role as Mr. Robert's second-in-command at Comcast to lead NBCUniversal, favored a more aggressive approach, according to people familiar with the matter.
But also on Thursday, The New York Times reported, in a story on NBC News' recent woes: "Mr. Capus won a significant endorsement this week: he signed a new long-term deal to continue as the top executive in the news division." If true, that would put to rest rampant rumors that Capus might be on his way out. It doesn't, however, answer questions about his role vis-a-vis Bell and whether Bell might, for example, find himself overseeing news and sports.
The issues for NBC News extend beyond Good Morning America beating Today. Now, Nightly News and even Meet The Press are struggling to hold on to their ratings leads, and this is the first time Capus' role has been thoroughly evaluated. Immediately after Jeff Zucker was ousted as the President of NBC Universal, Comcast officials were loathe to make any major changes to the news division, even as Mediaite reported on a talent exodus that some wondered would not have occurred if Zucker had remained with the network. But despite those questions, both publicly and privately, Comcast execs expressed support for Capus and MSNBC President Phil Griffin. The unwavering support for Capus apparently waned in the wake of what that same Comcast official, on condition of anonymity, told Mediaite were "a number of issues, not all connected to ratings."
Capus, who was appointed by Zucker, is generally well liked by the staff and is currently the longest running news division president. NBC insiders say he has always put the interests of the news division first and that loyalty has garnered him the admiration of many employees, including Brian Williams. But Comcast executives are focused more on Bell and seem prepared to do whatever it takes to keep him happy.
Interestingly, while MSNBC numbers have also been down and the network has been forced to apologize repeatedly for gaffes or errors, two knowledgeable sources tell Mediaite that Comcast brass are very happy with MSNBC's Griffin and are not at all concerned about the outlook for the cable arm. This is likely a result of the fact that all cable news networks are down, though comparatively, the NBC network programs are faring far worse. The fact that MSNBC is consistently trouncing CNN in the ratings is a testament to the network's and Griffin's, success.
We reached out to Comcast communications department for comment and they would not speak on the record for this story.
Have a tip we should know? tips@mediaite.com