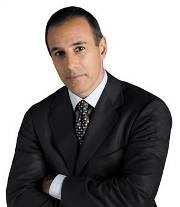 In the wake of a new new National Enquirer story about Matt Lauer's affairs, the Today show is fighting back, calling the allegations "completely inaccurate and unfounded" (this, after Lauer and his wife spoke out against the rumors last week).
As the Enquirer digs its heels into the poorly sourced story, the credibility of the publication continues to erode post-John Edwards and Pulitzer consideration.
The Enquirer's latest cover story blares the headline, "Matt Lauer's 'Other Women'" and floats the names of NBC anchors Natalie Morales and Jenna Wolfe, as well as Julie Bowen of ABC's Modern Family. The Today show responded with a statement:
The allegations surrounding Matt Lauer are completely inaccurate and unfounded. These accusations are reckless and harmful to the Lauer family. Equally reckless, irresponsible and inaccurate are the accusations about his "Today" show colleagues. Matt and his wife have spoken out on this on the record and will not be discussing it further.
After the initial report of Lauer's cheating in the Enquirer, he and his wife spoke out against the rumors to People magazine. "I have never moved out. I am not moving out. There is no truth to that," he said. "Have we had a completely perfect, easy marriage? No. But the stories you've read over the years are not true."
His wife, Annette, commented as well. The Enquirer fired back as well, standing by their initial story – and now it continues today.
This comes just weeks after the Pres. Obama cheating story that the Enquirer almost immediately walked back. (Yes, we know.) As the sourcing and details of this story indicate, this looks like another case of rumors and innuendo masquerading as reporting. And again, is shaping up as false.
Associated Content suggested Lauer may have a libel case against the National Enquirer, although opening that can of worms could just keep the story in the news. More likely, Lauer, and the Today show, are done with their response.
—–
» Follow Steve Krakauer on Twitter
Have a tip we should know? tips@mediaite.com