Today Show Portrayal Of NJ Governor Chris Christie Has Presidential Overtone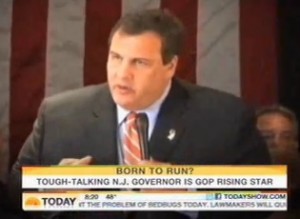 New Jersey Governor Chris Christie often seems larger than life, and it's not just because of his "rubenesque" body type. Christie has a knack for connecting with his constituents because of his remarkably candid, and yes, sometimes combative, way of communicating. On The Today Show, Jamie Gangel filed a glowing report on the New Jersey Governor with a clear and optimistic theme of a presidential bid in the future.
Conservative blogger Cubachi sets up the clip:
This is a positive profile of republican Governor Chris Christie, which is rare by Today Show standards. This gets into more about who the governor is, his family, and profiles his popularity among people of all political persuasions (with the exception of many union members). They even interview democrat Newark Mayor Cory Booker on why he has such a good relationship with the governor.

So is Governor Christie running? Well, according to the profile, it's more likely you'll find him singing Bruce Springsteen's "Born to Run" than see him run for the presidency in 2012. We'll see.
Knowing how political media relations' offices work, there is no doubt that Mr. Christie was well aware of the presidential overtone, and was all to happy to comply with the big wet kiss Gangel and her Today Show producers gave him. But seeing Christie alongside his political ally, Democratic Mayor of Newark Cory Booker, one can easily see how voters and the media alike have been charmed by the sitting Governor of New Jersey.
Have a tip we should know? tips@mediaite.com