Today Show Segment Gets Awkward When Aretha Franklin Takes Too Long To Cook Shrimp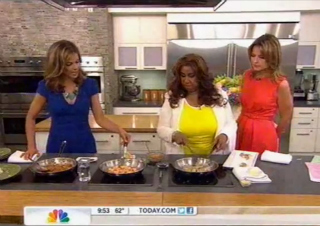 Clearly legendary diva Aretha Franklin has never appeared on a cooking show before. The Queen of Soul appeared on Monday's edition of the Today Show to whip up a batch of her "Mmmm Mmmm Mmmm Peanut Butter Shrimp." But she spent too much time demonstrating the cooking process, and when hosts Savannah Guthrie and Natalie Morales attempted to hurry the singer along, things got a bit awkward.
At the outset, it became clear that Franklin had intended to cook an entire batch of the peanut butter shrimp in-studio. She slowly explained that "this is a fast recipe" and "it's going to be less than ten minutes," as Morales tried to hurry the process along.
As Franklin slowly and deliberately explained the process of cooking shrimp in lots of butter, you'll notice Guthrie making eye contact with and acknowledging the stage manager off-camera, who was likely informing her on how little time is left in the segment.
Guthrie and Morales explained to viewers that a third pan was what the finished product looks like (which is par for the course on cooking shows — you never actually cook the full meal during the segment), and attempted to hurry Franklin, saying "We only have a minute and a half left why don't we move to this?"
Franklin acknowledged the request but was seemingly intent on slowly adding the peanut butter to the shrimp she was cooking in the first pan, telling the hosts, "Now wait a minute, just a moment. A minute and a half — is that all we have?"
"Tell NBC to extend the time!" the singer joked. And Guthrie added, "Let's have some R-E-S-P-E-C-T. Come on!"
After the joking subsided, Franklin continued to cook the shrimp, adding garlic, soy sauce, and other goodness, while mumbling about each ingredient. All the while, Guthrie continually looked up to acknowledge the stage manager and the dwindling segment time.
Eventually the hosts hurried along the end of the segment and were able to thank Franklin and show the finished product. But, alas, the allotted segment time ran out anyway and cut to commercial…just as Guthrie was about to tease upcoming programming.
Check out the awkward cooking below, via NBC:
>> Follow Andrew Kirell on Twitter
Have a tip we should know? tips@mediaite.com