Today Show's Amy Robach Reports Live From Sidewalk Where Lindsay Lohan "Fell"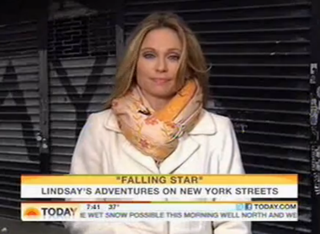 When it comes to gathering evidence, reporters are often on the road for much of their careers, searching for clues and bringing back dramatic scenes which would be impossible for viewers to experience without them. This is not one of those scenes. The Today Show reported yesterday on the breaking news that Lindsay Lohan may have been photographed falling outside a club this week, and promptly sent reporter Amy Robach to brave the scene, which mostly consisted of a nondescript metal wall.
So here's the back story: every time Lindsay Lohan appears in public, given her track record of alcoholism and drug use, people fear that she is once again returning to her old ways. This week, she was spotted in a fur coat outside a New York club, and from the sequence of paparazzi photographs, appears to have fallen, though no witnesses have come out to confirm the report. To gather more evidence on the matter, Robach when straight to the scene of the crime in broad daylight, when it was closed and the scene appeared completely empty. She reported on Lohan's official statement: "just because I'm out doesnt mean that I'm drinking." The locale served as little more than a hard-edged urban backdrop which, given that it is a club frequented by Lindsay Lohan, probably doesn't look as menacingly generic as it did in daylight.
Back in the day (2010) certain needless on-the-ground reports got their fair due from the rest of the media for being over-the-top– one example that comes to mind is Wonkette skewering David Shuster for venturing to New Orleans after James O'Keefe broke into Sen. Mary Landrieu's office. And, conversely, there are certainly reports that are impossible to do without being on the ground, like most of Anderson Cooper's out-of-office work. This report is even further out in the solar system of bootstraps journalism, serving little purpose other than perhaps earning an A for effort.
The report via NBC below:

Have a tip we should know? tips@mediaite.com