Today Show Talks To Louis C.K. About Those Damn Sarah Palin Tweets: 'I Don't Think She's Some Sacred Person'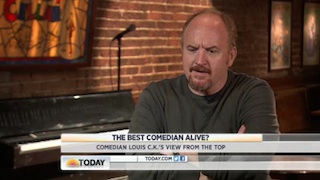 It's an exciting time for television fans. A brilliant auteur has returned to the airwaves to unleash another glimpse inside his brain, a world that doesn't exist anywhere else. No, I'm not talking about The Newsroom again. I'm talking about a show that actually lives up to its hype; Louie. To commemorate the show's new season, Today did a segment on its creator, star, writer, director, car driver, janitor, astronaut, every job ever Louis C.K. about his stand up style, his career, and, of course, those damn Sarah Palin tweets that will follow him to his grave.
The segment was curious in that it managed to be both fawning and condescending at the same time as Jamie Gangel talked up how "brilliant" C.K. is while also pestering him to know why he feels the need to go for the "cheap joke" of "filthy stuff" (no offense, but this line of questioning officially made Gangel the last person I want to hang out with at a dinner party). C.K. showed immense patience by merely smiling and responding that anyone who thinks what he does is cheap and easy, should just give it a try themselves.
Speaking of patience, God bless Louis C.K. for managing to still answer questions about those Sarah Palin tweets he sent out about a million years ago without going insane. Laughing, C.K. admitted that those tweets caused him "some problems" (sigh…Greta…) but that he wouldn't change things given the chance.
"Why not, man? What is she? She's just a person. I don't think she's some sacred person."
Amen.
Seriously though, this is where C.K. should apologize for going for the easy joke. I mean, making fun of Sarah Palin? Palin jokes are as easy as a knock knock joke about the world's dumbest door.
Watch the segment from NBC below:
Have a tip we should know? tips@mediaite.com