Today's 'Legend' Meredith Vieira Announces She'll Be Covering London Olympics. What Do The Critics Think?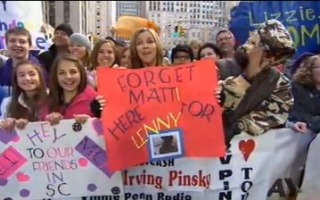 On Monday, Today revealed that the "Today Legend" it had been touting last week is none other than former morning show host Meredith Vieira, who appeared among onlookers to share her lack of support for her former co-host, Matt Lauer.
"Can I just say… You look better in silhouette," joked Lauer.
Vieira was something less than thrilled. Have a look:
RELATED: Sarah Palin To Co-Host TODAY On Tuesday
As you're likely aware, Vieira is only part of an early morning shake-up across various networks. Tomorrow, former Alaska governor Sarah Palin is set to co-host Today on NBC, while over at ABC, Lauer's other former co-host, Katie Couric, is sitting in a host for the week.
According to NYT scribe Brian Stelter, some critics haven't exactly been enthused about Today's stunt. "Emails from TV types ridiculing #TODAYLegend stunt are pouring in," he Tweeted this morning. "Many tweets seem critical too. But NBC had to counter ABC somehow, right?"
Later, in the studio, Lauer continued to poke fun at Vieira, joking that she'd often refer to herself as a "legend" while at Today.
"Do we really have to call you Ms. Vieira now?" asked Savannah Guthrie.
"I'd prefer that," Vieira responded. "Icon's fine."
On a more serious note: One reason Vieira is stopping by the show is to share a big announcement. She'll be covering the upcoming London Olympics.
And then Ann Curry mentioned… something about sprinklers going up dresses? They're a kooky bunch, those Today hosts.
Check it out, via NBC:
Have a tip we should know? tips@mediaite.com