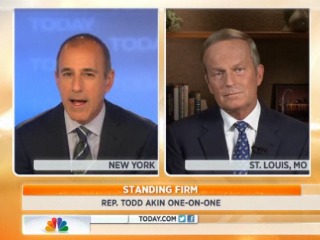 Todd Akin made the media rounds this morning, appearing both on Good Morning America and on Today, where he spoke with Matt Lauer about the backlash he has received over his remarks regarding women's bodies and "legitimate rape."
Lauer began by asking Akin whether his colleague and vice presidential candidate Paul Ryan had indeed personally called asking him to step down from his senatorial race.
"Yes," said Akin. "Paul Ryan did give me a call. He felt that I had to make a decision, but he advised me that it would be good for me to step down." He added that "I told him that I was going to be looking at this very seriously, trying to weigh all of the different points on this and that I would make the decision. Because it's not about me. It's about trying to do the right thing and standing on principle."
RELATED: Todd Akin Leaves Open Possibility Of Stepping Down: 'I Don't Know The Future'
When Lauer asked Akin to clarify what he'd meant to say, Akin first noted that the word "legitimate" should not be used in the context of rape. "There is no rape that is legitimate," he said. "It's a heinous crime."
Akin then noted that no one is perfect, and that people who make statement often will sometimes make mistakes when speaking.
When the host asked Akin whether he felt women lied about being raped to gain access to abortion, Akin said he did not think that was the case.
Lauer then noted that Akin had gotten medical facts "just plain wrong" in his remark, prompting Akin to once again apologize.
Noting all the prominent names on the right calling for him to step down, Lauer asked Akin, "Why should your cause or your ego trump the greater goals of the Republican party?"
"Well, let me say, this is not about me," Akin replied. "This is not about my ego. But it is about the voters of the state of Missouri. They have chosen me because of principles that I stand on, and putting principle over politics. I believe that they stand with me on a whole host of issues."
Watch, via NBC:
Have a tip we should know? tips@mediaite.com