Todd Grills Conway: You Called Birtherism a 'Smear,' So Wasn't Trump Smearing Obama?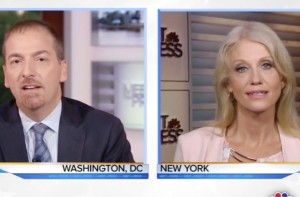 Chuck Todd put Donald Trump campaign manger Kellyanne Conway on the hot seat this morning over Trump's birtherism. He started off by asking, "How and when did Donald Trump conclude that the president was born in the United States?"
Conway answered, "You'll have to ask him that."
She brought up the three examples of people in Hillary Clinton's orbit bringing this issue up, which set Todd off:
"Who cares about the Clinton incident? Donald Trump, for five years, perpetuated this. This has been arguably part of his political identity for the last five years… Why do two wrongs make a right in this case?"
Conway insisted "it makes a huge difference as to who started it," but Todd noted how the Trump campaign last week very specifically calling birtherism a smear. So, he asked, "does that mean for five years Donald Trump was perpetuating a smear?"
Conway said it was certainly a "smear" from Clinton associates, but completely avoided addressing Trump's years and years of birther statements. Todd went ahead and brought up some of them to her.
Conway's answer was basically that voters don't care.
Todd also pressed her on using the birtherism announcement to promote his hotel and whether his multiple flip-flops on birtherism and other things are an indication of whether he has been "another politician who will just do and say anything to get elected in the moment."
Watch the whole confrontation above, via NBC.
[image via screengrab]
— —
Follow Josh Feldman on Twitter: @feldmaniac
Have a tip we should know? tips@mediaite.com
Josh Feldman - Senior Editor