One of the major talking points in the media on Sunday wasn't the Charleston shooting, per se, but the renewed debate regarding whether or not the Confederate flag has a place in modern America. Former GOP presidential candidate Mitt Romney spoke out against the flag on Twitter, and current GOP hopefuls like Lindsey Graham, Jeb Bush, Rick Perry, and Rick Santorum have all broached the topic — some more forcefully than others.
Mike Huckabee followed suit on Sunday morning's Meet the Press when host Chuck Todd asked the former Arkansas governor point blank, "Are you comfortable displaying the Confederate battle flag in public?"
I don't personally display it anywhere, so it's not an issue for me. That's an issue for the people of South Carolina. Do you display it? I doubt it. Does anyone on your panel display it? I doubt it. For us, it's not an issue.
Like Santorum before him, Huckabee chalked it up to a state issue — as opposed to a federal one. Of course, Santorum caught flack during his interview with Martha Raddatz on ABC's This Week, mainly because it seemed he wasn't choosing a side.
The same could be said for Huckabee's stance, but his argument that South Carolina's state politics are not his concern seem to negate such a claim. Huckabee doesn't think the Confederate flag questions asked of 2016 presidential candidates are too concerned with the flag itself. Instead, he thinks another question is at the forefront of the debate:
We're asking, "Is South Carolina a racist state because of the flag that flies on their capitol grounds?" Here's what I can tell you as a frequent visitor to South Carolina. This is state in that largely white people elected a female governor of Indian descent, and the first ever African-American United States senator from the south. They have more diversity in the people that they have elected to statewide office than New York, Connecticut or Massachusetts. There's 4.8 million people in South Carolina. I don't think you can say that presence of one lunatic racist…is somehow evidence of the people of South Carolina.
Take that as you will, but until then, please enjoy this screenshot of Todd being absolutely adorable: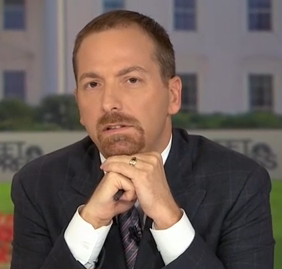 Check out the clip below, courtesy of NBC News:
[h/t NBC News]
[Image via screengrab]
— —
>> Follow Andrew Husband (@AndrewHusband) on Twitter
Have a tip we should know? tips@mediaite.com