Tom Brokaw, Chuck Todd Wonder Whether Deluge of 'Bridgegate' Coverage Was Appropriate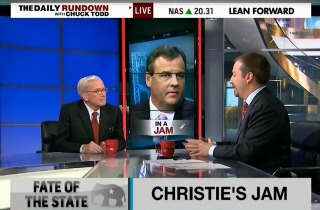 On Wednesday's Daily Rundown on MSNBC, former NBC News anchor Tom Brokaw and host Chuck Todd took a "step back" after a week of extensive media coverage of the scandal involving the closure of two lanes of the George Washington Bridge for the alleged purpose of political payback. Brokaw and Todd debated whether the level of coverage the media devoted to the scandal was appropriate or if it was driven primarily by New Jersey Gov. Chris Christie's stature as a possible 2016 presidential contender.

Brokaw began by saying that the scandal resonated so much with the public and the press because both the governor and the state played into their stereotypes. "I do think across the country, however, when they're looking at long-term unemployment, and they're looking at the uncertainty of the Obamacare, they're going, 'You've got to move on, guys,'" he added. "You can only close those lanes for so long if you're in the national media."
RELATED: Jimmy Fallon and Bruce Springsteen Take on Christie's 'Bridgegate' Scandal with Epic 'Born to Run' Parody
"I do wonder if this had happened in Nevada, whether it would have gotten as much attention," Brokaw wondered.
Todd defended the level of media coverage of the scandal and Christie. "You live by the New York media sword, and you die by it," Todd said. "And he's played it. He's played the New York media card."
Watch the clip below via MSNBC:
[Photo via screen grab ]
— —
> >Follow Noah Rothman (@NoahCRothman) on Twitter
Have a tip we should know? tips@mediaite.com