Tom Brokaw Explains Mitt Romney's Personality With Comparison To Rapper 'Fiddy Cents'
Tom Brokaw Explains Mitt Romney With Comparison To Rapper 'Fiddy Cents'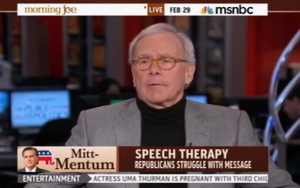 Mitt Romney's dual victories in the Arizona and Michigan primaries were the main topic of conversation on Wednesday's Morning Joe, with the panel of guests alternately praising Romney's comeback and bemoaning Rick Santorum's apparent self-destruction.
Chuck Todd suggested that while the wins were great for Romney, he's probably going to have "one or two more" rough moments.
"He still can't excite conservatives," Todd said, labeling Romney's speech on Tuesday night a "missed opportunity," because he focused on President Obama instead of making a case for the Republican vision of himself.
"If you can't excite the conservatives about you," Todd reasoned, "at least have them buy into you. And you still get the sense that he knows not everybody's bought into him."
The discussion then moved to why Romney was unable to connect to the base. NBC's David Gregory pulled in a football metaphor, saying that the blocking and tackling is okay, but he's unable to make a deep pass. "He can't strike a knockout blow," Gregory said, noting that, in just one example, Romney's speeches lack a lyrical quality.
"He doesn't want to go the general election defending against the oppo research that the other side is doing about every little thing that he had to say that may not resonate with voters," Tom Brokaw added. "Look, at a certain point in life, we all are who we are. The chances of me going on stage with Fiddy Cents as a rapper is not going to happen…probably." Brokaw added, after a hearty round of laughter from the panel, that the same is true for Santorum, who has always been "angry," and is showing that on the campaign trail.
Watch a clip of the panel discussion below, courtesy of MSNBC:
Have a tip we should know? tips@mediaite.com