Tom Brokaw: George H. W. Bush Is 'The Most Underrated Modern President Of Our Time'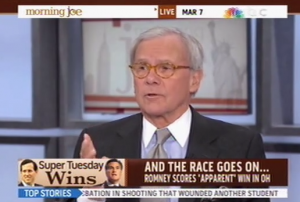 The Morning Joe panel made a wonderful, Joe Scarborough-driven segue from Mitt Romney to George H.W. Bush on Wednesday morning, heaping praise on the nation's 41st President and wistfully reminiscing on his presidency.
"He's a great man. We all look to him and say, 'Why can't our politicians be like this today?' There's a glow about him," Scarborough said. "I love the guy. I will say it — I love him. And yet in '87 and '88… he was savaged. And we got that wrong."
Panel guest Tom Brokaw went into an anecdote about Bush and how he and Jim Baker won the election in 1988.
"Think about what happened four years later, Joe, because that's also applicable to where we are now," Brokaw said. "George Bush 41 presides over the winning war. He puts together the most impressive alliance that we have seen in the last 40 or 50 years to do that. His numbers go to 75, almost 80 percent approval…"
"The Soviet Union collapses, Christmas day '91," Scarborough added.
"Berlin Wall comes down," Brokaw continued, telling how Helmut Kohl got teary-eyed thanking Bush. "That's how he goes into his re-election campaign. And he loses to a guy who has a girlfriend who appears in the middle of that summer, talking about her long-time affair with the governor of Arkansas."
"It ain't over," Scarborough continued.
"He was the most — I think, the most underrated modern President of our time," Brokaw concluded.
Watch a clip of the discussion below, courtesy of MSNBC:
Have a tip we should know? tips@mediaite.com