Tom Brokaw Mocks 'Far-Reaching' Idea That People Need Guns To Defend Against Government Tyranny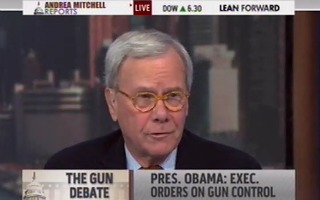 Is an armed citizenry the last line of defense against government tyranny? Many pro-gun advocates think that is the case and believe the Second Amendment to the Constitution was crafted to preserve the right of the people to defend against government overreach if necessary. NBC News' veteran reporter Tom Brokaw sat down with MSNBC's Andrea Mitchell on Friday where he dismissed this notion, saying that it is a "far-reaching" belief. He added that if storm troopers were to show up on Americans' door steps, people would have bigger problems with "anarchy in this country" than what guns they were allowed to have.

RELATED: Mark Levin Goes After NBC's Tom Brokaw: 'Shut Up! … Do You Realize What An Idiot You Are?'
Mitchell asked Brokaw for his thoughts on the state of the ongoing debate over what measures the federal government should take to curb gun violence in America.
"Guns are the final tool in the breakdown of a lot of things," Brokaw began. "The breakdown of mental health facilities for example."
"At the same time, we seem to have a kind of cultural violence," Brokaw continued. "It's more and more vivid – on video games and films. Even on television. Even on – the game of Football is more violent than it has ever been before. So, there's a kind of celebration of that."
He went on to say that the debate about guns is, however, the most important subject of the national conversation about violence. He said that he agrees with Gen. Stanley McChrystal who has said that military-style weapons have no place in civil society.
"Well, the response to that was, 'I have to keep my weapon because the government is going to come and try to take it away from me. I have to be able to fight back when that happens,'" Brokaw said in a summary of the argument against banning assault weapons.
"That's the most far-reaching thing you can possibly imagine," he said. "If we get to a stage where storm troopers show up on your doorstep, it's about a lot more guns, by the way, it's anarchy in this county."
Watch this clip below via MSNBC:
> >Follow Noah Rothman (@Noah_C_Rothman) on Twitter
Have a tip we should know? tips@mediaite.com