Tom Brokaw Pounds Obama For Spending 'Entirely Too Much Time' Campaigning, Not Negotiating With GOP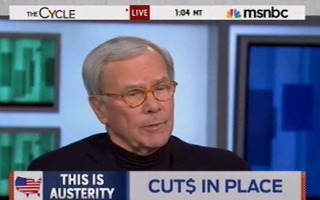 Former NBC News anchor Tom Brokaw criticized President Barack Obama on Monday for spending "too much time" campaigning against the sequester cuts and lambasting his political opponents rather than negotiating with Republicans to avert those cuts. He said that both sides of the debate are playing electoral politics, with Obama attempting to "demonize" his Republican opponents and the GOP angling to retake the Senate in 2014.

RELATED: Tom Brokaw Compares Silence On Gun Violence To Not Speaking Out Against Segregation In 1960s
"This appears to me to be no way to run a government," Touré observed. "Is it that we're forced into this because one party is not only refusing to negotiate but is incented to not work with the president?"
"Oh, I don't think that's the case," Brokaw replied. He said that the GOP does, however, have their eyes on the 2014 midterm elections and are politically unable to raise taxes again without endangering individual member's electoral prospects.
"The president, on the other hand, wants to demonize the Republican Party," Brokaw added, noting that he is hoping the Democrats can retake the House in the midterms.
"I think the president, by my lights at least, spent entirely too much time in the last two weeks campaigning, in effect, out around the country," Brokaw continued, "when he ought to have been, maybe, at Camp David."
He said that he was unclear why the president did not make an effort to at least appear to be negotiating with Republicans behind the scenes in order to secure a deal to avert the sequester cuts.
Watch the clip below via MSNBC:
> >Follow Noah Rothman (@NoahCRothman) on Twitter
Have a tip we should know? tips@mediaite.com