Tom Brokaw Says President Obama Must Answer For $1.1 Trillion Deficit 'That Happened On His Watch'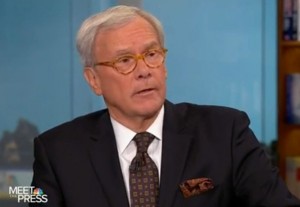 On Sunday morning's Meet The Press, legendary newsman Tom Brokaw joined moderator David Gregory in evening out the "specifics" narrative that has dogged Republican presidential candidate Mitt Romney by demanding that President Obama give more details about his plan to control the deficit and debt. Brokaw said that in a 2008 debate, then-Senator Obama "was saying, 'Look, we've got a deficit of a half a trillion dollars. I'm going to get that under control.' Well, this week that deficit is $1.1 trillion and it happened on his watch. He's going to have to answer to that."
By the time President Obama took office, however, he was handed a $1.017 trillion deficit by President George W. Bush.
"I think that both campaigns have failed to say to the American public, This is going to be hard,'" Brokaw said. "This is a real crisis in America. You look at the IMF projections about where the global economy is now. They're saying, 'You've got to get your act together. We could be in another recession next year at this time.' They've got to level with the American people about everyone's going to have to give something. And there's going to have to be some revenue raised at some point as well."
Brokaw continued, "I do think that the governor's right and we'll expect to hear Governor Romney go after President Obama this time about, "I want more details about your plan. You keep harping on me. I haven't heard the details in your plan as well." I looked at that debate that we talked about a moment ago. It was playing last night on CSPAN."
"And now-President Obama was saying, 'Look, we've got a deficit of a half a trillion dollars. I'm going to get that under control.' Well, this week that deficit is $1.1 trillion and it happened on his watch. He's going to have to answer to that."
The half-trillion dollar deficit that President Obama was referring to, however, was for the fiscal year ending in September of 2007. The deficit for FY 2008 was $1,017,071. That still leaves President Obama's promise to "get that under control" arguably unfulfilled, but also dramatically alters the terrain of that argument.
Here's the clip. from NBC's Meet The Press:
Follow Tommy Christopher (@TommyXtopher) on Twitter.
Have a tip we should know? tips@mediaite.com